Post Date:
August 30, 2023
---
Daniel Felipe
Data Breach Summary
In a disconcerting event, SevenRooms, the leading platform dedicated to reservation and experience management for restaurants and hospitality establishments, has suffered a profound security breach. Our meticulous team at InsecureWeb detected this breach on August 20, 2023. The breach occurred when a database containing sensitive information from SevenRooms.com was compromised. Notoriously, a hacker known as "Cyb" claimed responsibility for the breach and publicly released the stolen data on the dark web forum "onniforums.com."
The leaked database, consisting of a staggering 36.5GB of pertinent information, revealed a vast array of crucial details. Among the compromised data were emails, names, phone numbers, notes, visit details, payment information, and dates – a treasure trove of sensitive customer data requiring immediate action.
Where and How?
The breach unfolded within the realms of the dark web, posing a serious threat to the integrity of SevenRooms.com. Our comprehensive investigations revealed that the breach transpired on the prominent dark web forum "onniforums.com." Utilizing sophisticated techniques, the nefarious hacker Cyb stealthily gained unauthorized access to SevenRooms' database, targeting their invaluable records.
Once inside the system, Cyb exfiltrated the stolen information, which was subsequently made public. This compromised data, including vital personal details, raises concerns surrounding customer privacy and highlights an urgent need for enhanced security measures.
A Screenshot of the data can be found below: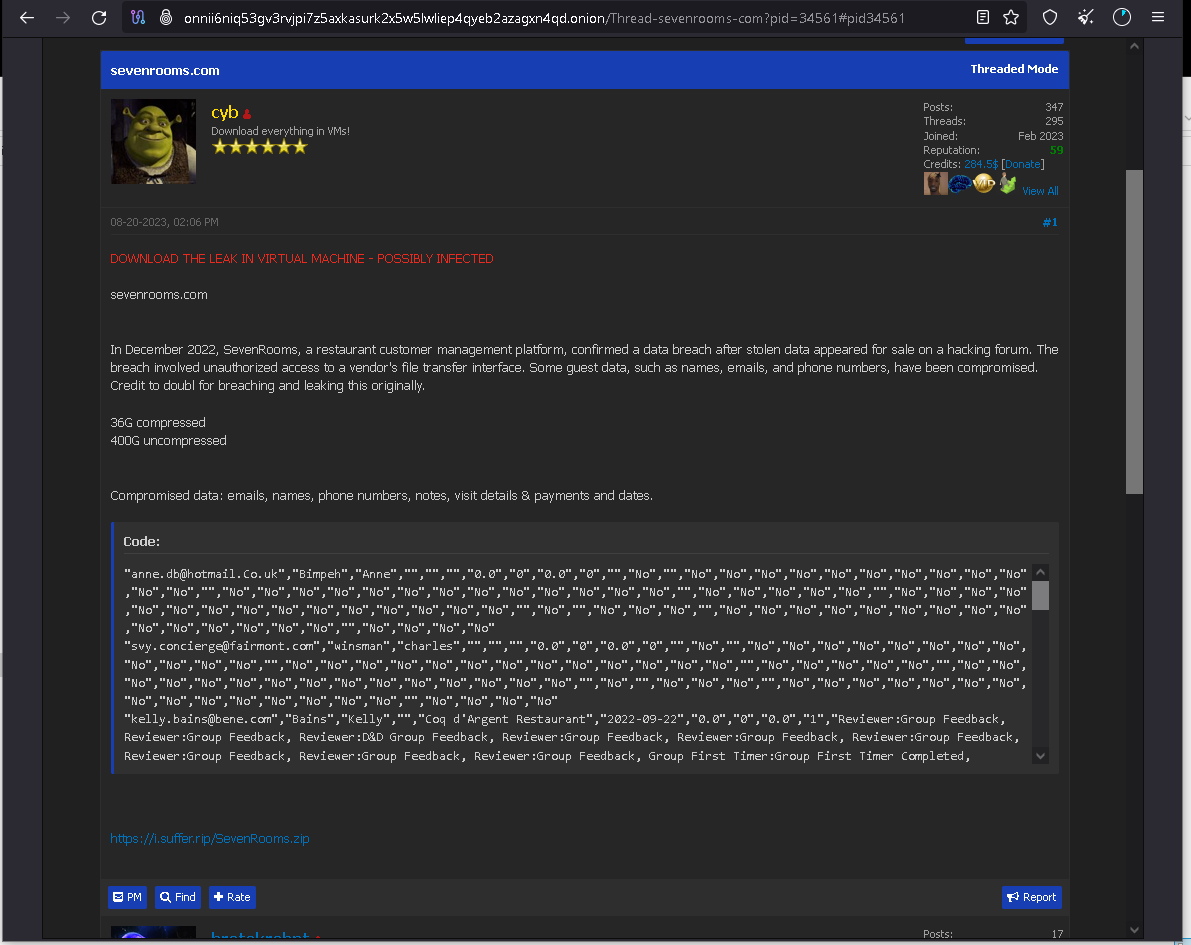 Company Data Breach History
While grappling with this recent breach, SevenRooms boasts a commendable track record, with no known history of prior security breaches. As a platform dedicated to providing exemplary reservation and hospitality management services, SevenRooms has consistently prioritized the implementation of robust cybersecurity measures and stringent data protection protocols.
However, in an ever-evolving digital landscape, no organization is fully immune to the persistent dangers posed by cybercriminals. This breach represents a significant turning point, underscoring the urgency to reinforce security defenses and fortify the protection of sensitive information.
To uphold its commitment to customer security and data protection, SevenRooms is redoubling efforts to strengthen its cybersecurity infrastructure. Rigorous security audits, continuous system updates, and employee awareness training are among the initiatives being pursued to prevent similar incidents in the future.
While this breach necessitates immediate action, SevenRooms remains steadfast in its dedication to rectify the situation, working diligently to mitigate the impact on affected individuals and to prevent the recurrence of such breaches.
The incident serves as a reminder to all individuals and organizations to maintain vigilance in protecting personal and sensitive data. Employing robust firewalls, implementing advanced threat detection systems, and regularly updating security protocols are crucial steps towards safeguarding against such breaches in an increasingly interconnected digital world.
Recommendations for Personal Data Protection
How Users Can Protect Their Information
To protect their personal information and accounts from being compromised, users should take the following steps:
– Change their passwords frequently, with a combination of letters, numbers, and symbols.
– Enable two-factor authentication whenever possible.
– Use unique passwords for each account, to prevent hackers from accessing multiple accounts with the same password.
– Be cautious of suspicious emails or messages, as they may contain phishing links that can compromise their accounts.
– Regularly monitor their accounts for any suspicious activity.
What is InsecureWeb?
InsecureWeb is a Dark Web monitoring service that keeps track of recent data breaches and tracks their impact by monitoring the darkest places of the internet. InsecureWeb notifies users and enterprises when their data has been found online and helps them mitigate the impact.