Post Date:
August 30, 2023
---
Daniel Felipe
Data Breach Summary
In a disconcerting turn of events, YES Bank, a leading financial institution in India renowned for its comprehensive range of services, has fallen prey to a significant security breach. Our diligent team at InsecureWeb detected this breach on August 17, 2023, unveiling an alarming violation that transpired within the realm of YESBank.in. Acknowledging the severity of the situation, it is essential to note that the breach detection date does not imply the breach occurred on that date. This breach ensued when a database associated with YESBank.in's sensitive information was compromised. "Cyb," a perpetrator notorious within the dark web community, claimed responsibility for this breach, publicly exposing the stolen data on the dark web forum "onniforums.com."
The compromised database, amounting to a staggering 55.4MB, revealed a multitude of vital details. The leaked information included IDs, transaction reference numbers, order IDs, service provider transaction IDs, order status, client names, client IDs, transaction amounts, first and last names, UPI IDs, platform details, remarks, creation timestamps, and modification timestamps. These revelations pose substantial concerns, demanding immediate remedial measures to prevent misuse and uphold customer trust.
Where and How?
The breach unfolded within the enigmatic confines of the dark web, casting shadows over YES Bank's fortified digital encryptions. Our comprehensive investigations revealed that this breach emanated from the notorious dark web forum "onniforums.com." Employing sophisticated techniques, the malevolent hacker Cyb stealthily infiltrated YES Bank's database, specifically targeting valuable customer records.
Cyb clandestinely pilfered the stolen information, subsequently making it public, thus exacerbating the gravity of the situation. The compromised data, encompassing essential personal details, engenders profound concerns surrounding customer privacy and mandates immediate preventive measures to thwart potential misuse.
A Screenshot of the data can be found below: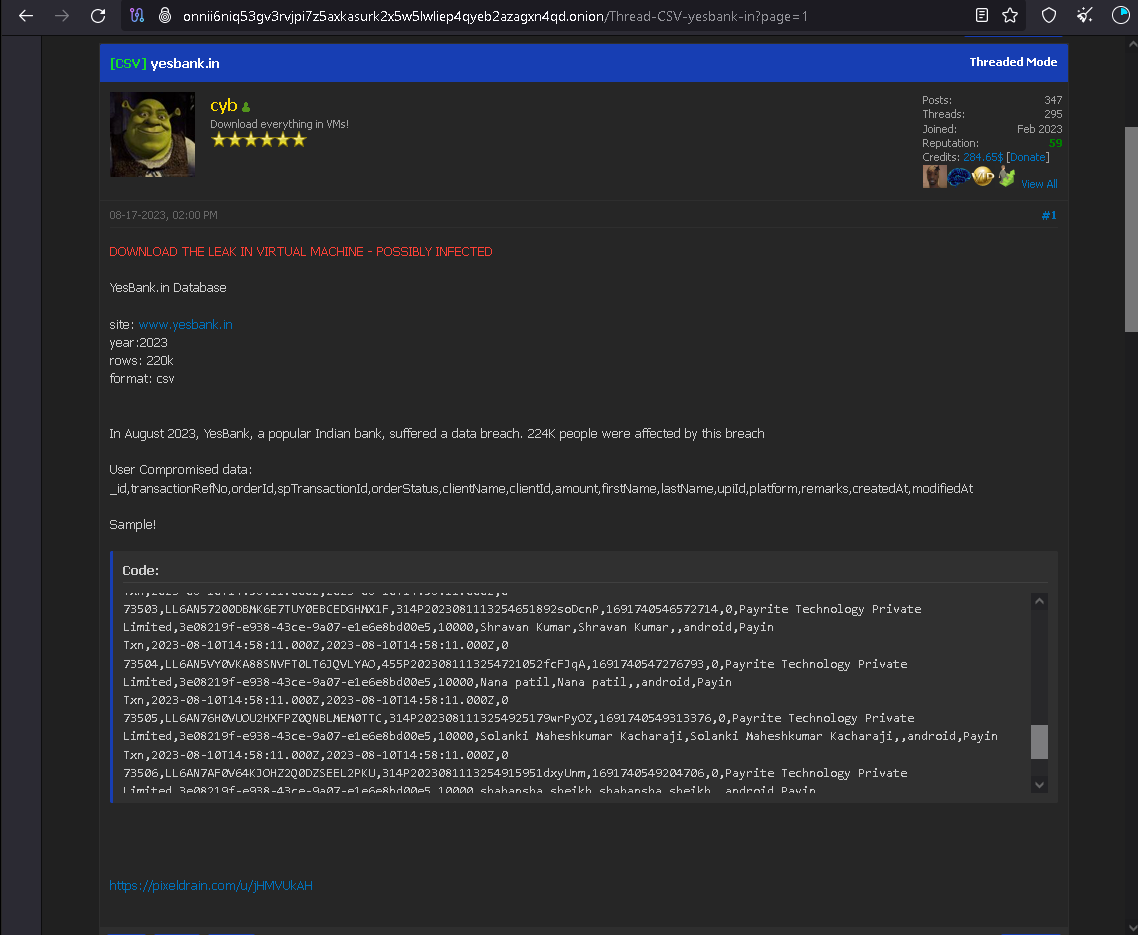 Company Data Breach History
YES Bank has maintained an admirable track record, devoid of any prior reported security breaches. As a front-runner in the Indian financial landscape, the bank consistently adheres to rigorous cybersecurity protocols and robust data protection mechanisms.
While this breach marks an unfortunate setback, YES Bank remains steadfast in its dedication to securing customer data and shoring up vulnerabilities. Strengthened cybersecurity measures and intensified system monitoring mechanisms are being implemented to prevent future occurrences and bolster customer confidence.
In an era dominated by increasing cyber threats, seemingly impenetrable security frameworks can occasionally falter. YES Bank diligently assures its valued customers of its unwavering commitment to minimize risks, fortify digital defenses, and ensure the highest levels of personal data protection.
In the pursuit of unprecedented security, it is essential for individuals and organizations to adopt stringent cybersecurity practices, including advanced firewalls, robust encryption protocols, and employee training programs that enhance data protection and curtail potential breaches.
While this breach necessitates swift action, YES Bank embraces the challenge head-on, leveraging its expertise to rectify the situation, mitigating the potential impact on affected individuals, and implementing measures to safeguard against a recurrence.
Recommendations for Personal Data Protection
How Users Can Protect Their Information
To protect their personal information and accounts from being compromised, users should take the following steps:
– Change their passwords frequently, with a combination of letters, numbers, and symbols.
– Enable two-factor authentication whenever possible.
– Use unique passwords for each account, to prevent hackers from accessing multiple accounts with the same password.
– Be cautious of suspicious emails or messages, as they may contain phishing links that can compromise their accounts.
– Regularly monitor their accounts for any suspicious activity.
What is InsecureWeb?
InsecureWeb is a Dark Web monitoring service that keeps track of recent data breaches and tracks their impact by monitoring the darkest places of the internet. InsecureWeb notifies users and enterprises when their data has been found online and helps them mitigate the impact.