Post Date:
August 30, 2023
---
Daniel Felipe
Data Breach Summary
In a distressing incident, American Electric Power (AEP), a renowned provider of energy solutions and services, fell victim to a significant security breach. Detected by our vigilant team at InsecureWeb on March 30, 2023, this breach sent shockwaves through the industry. The breach came to light when a database associating with sensitive information from AEP.com was discovered. The notorious hacker known as "Cyb" claimed responsibility for the breach and publicized the data on the dark web forum "onniforums.com."
The compromised database, encompassing approximately 623KB of confidential information, revealed a multitude of crucial data points. This included invoice types, contractors, energy types, user IDs, first and last names, addresses, and Social Security Numbers (SSNs). The stolen information presented a grave concern for AEP and its customers, demanding immediate action.
Where and How?
The breach, with its roots in the dark web, created an alarming scenario for AEP. Our investigations indicated that the security breach occurred within the obscure recesses of a prominent dark web forum – "onniforums.com." The malevolent hacker, employing sophisticated techniques, obtained unauthorized access to AEP's database, targeting their invaluable records.
Upon infiltrating the system, Cyb surreptitiously acquired and subsequently divulged the compromised information. The stolen data, including sensitive personal details, stirs apprehension among customers and necessitates stringent measures to prevent potential misuse.
A Screenshot of the data can be found below: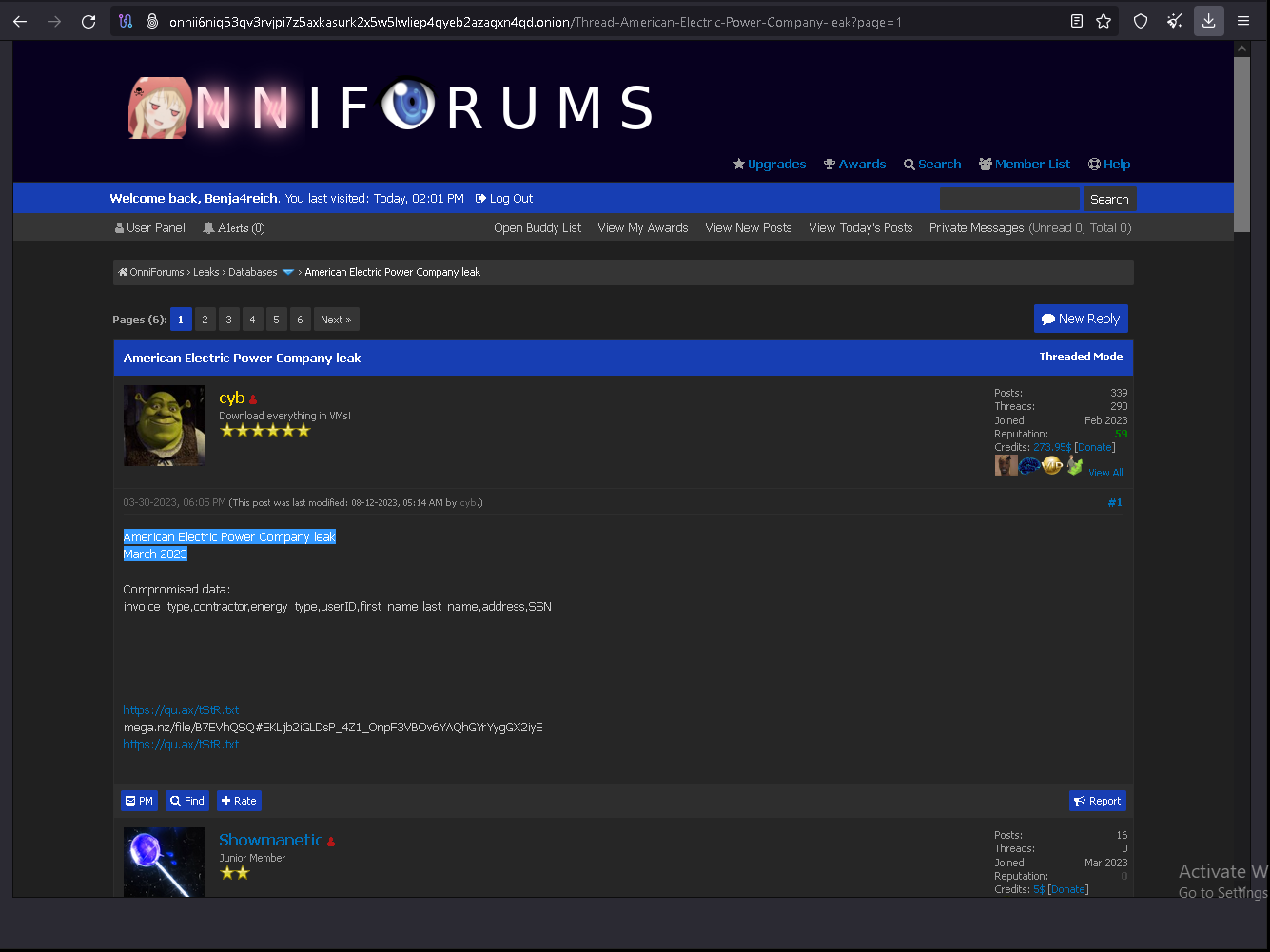 Company Data Breach History
Despite this recent breach, American Electric Power (AEP) maintains a commendable track record, with no known history of security breaches reported in the past. As a provider of essential energy solutions, AEP has consistently prioritized robust cybersecurity measures and stringent data protection protocols.
Security Breach incidents can affect any industry, and while AEP's environment had been fortified, the ever-persistent threats of the digital realm found a vulnerable gap. This incident has reinforced the importance of continual vigilance and the ongoing endeavor to stay one step ahead of cyber criminals.
As the cybersecurity landscape evolves, AEP recognizes the need for enhancements in their defenses and will spare no effort in safeguarding the interests of their stakeholders. Active measures, including comprehensive security audits, updates to their security infrastructure, and employee awareness programs, are being implemented to fortify their systems against such infiltrations in the future.
It remains essential for individuals and organizations to engage in proactive measures, such as robust firewalls, advanced threat detection systems, and regular system updates, to protect themselves against these ever-looming threats.
Recommendations for Personal Data Protection
How Users Can Protect Their Information
To protect their personal information and accounts from being compromised, users should take the following steps:
– Change their passwords frequently, with a combination of letters, numbers, and symbols.
– Enable two-factor authentication whenever possible.
– Use unique passwords for each account, to prevent hackers from accessing multiple accounts with the same password.
– Be cautious of suspicious emails or messages, as they may contain phishing links that can compromise their accounts.
– Regularly monitor their accounts for any suspicious activity.
What is InsecureWeb?
InsecureWeb is a Dark Web monitoring service that keeps track of recent data breaches and tracks their impact by monitoring the darkest places of the internet. InsecureWeb notifies users and enterprises when their data has been found online and helps them mitigate the impact.