Post Date:
August 7, 2023
---
Daniel Felipe
Data Breach Summary
In a troubling discovery, InsecureWeb, a dedicated dark web scanning company, has unearthed a significant data breach impacting the popular online search engine, GoSearch.in. This breach serves as a stark reminder of the constant vigilance required to protect user data in today's digital landscape, as cybercriminals continually seek out vulnerabilities to exploit.
On June 9, 2023, InsecureWeb identified a security breach involving the GoSearch.in website. The breach, posted by the individual with the username "zxcv16," exposed sensitive user data and took place within the Nulled.to dark web forum. Approximately 6.62 megabytes of data were reportedly stolen, compromising the safety and privacy of users who had interacted with the GoSearch.in platform.
Where and How?
The breach targeting GoSearch.in occurred within the dark web forum known as Nulled.to. This notorious platform serves as a hub for illegal activities, facilitating the illegal exchange of stolen data, hacking tools, and various other cybercrimes. InsecureWeb's advanced monitoring technology detected this breach, enabling a swift response to mitigate potential risks.
Specific details regarding the compromised user information are yet to be disclosed; however, InsecureWeb is actively working with GoSearch.in to investigate the full extent of the breach. This collaborative effort aims to ascertain the precise data categories that may have been compromised, enabling affected users to take appropriate action to secure their personal information.
A Screenshot of the data can be found below: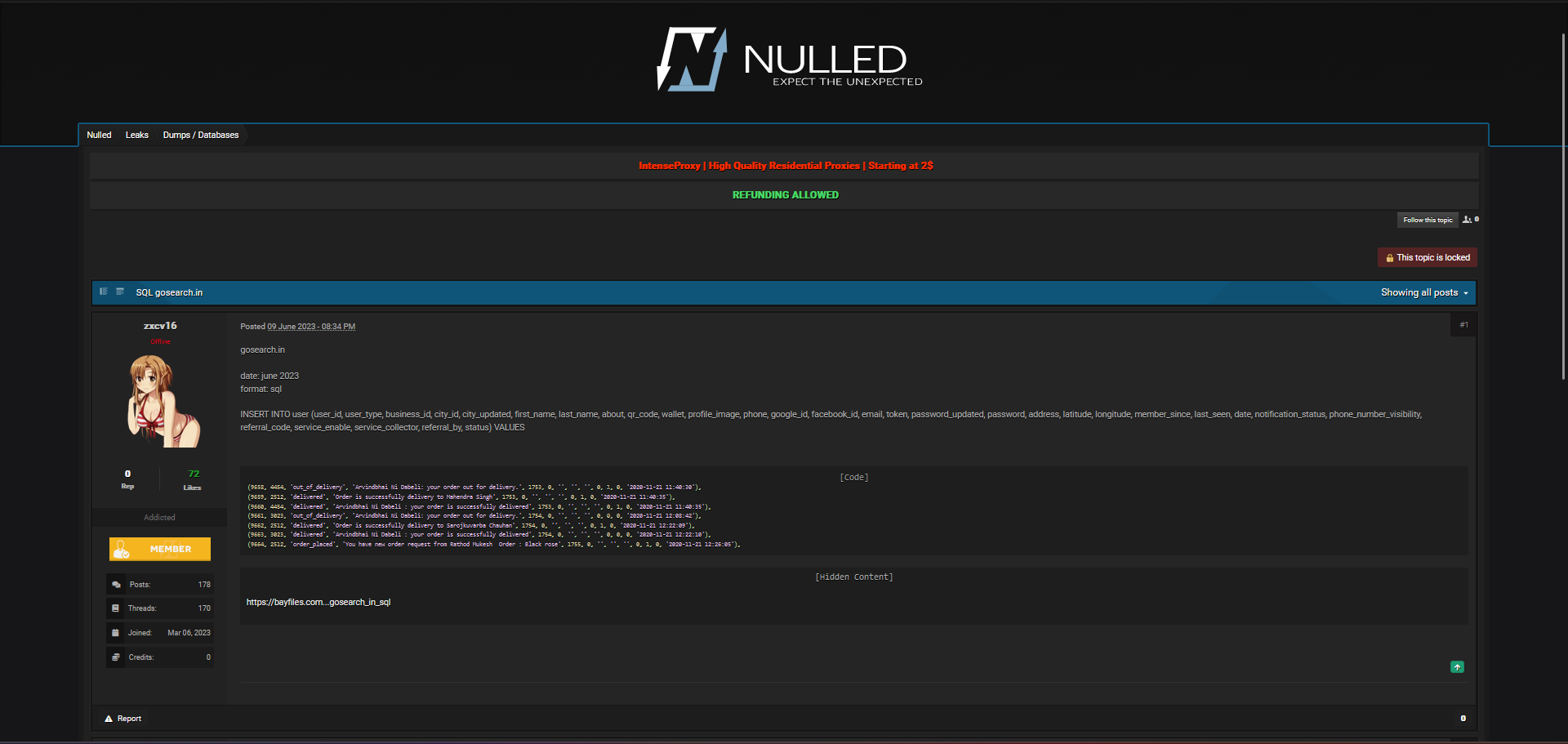 Company Data Breach History
GoSearch.in, an online search engine dedicated to assisting users in finding information, websites, news, and more, had previously maintained a strong reputation for its reliable and user-friendly interface. However, even with such merit, no organization is entirely immune to the increasing threats posed by cybercriminals. This breach serves as a wakeup call, emphasizing the need for ongoing security measures and proactive cybersecurity practices.
This site is working with cybersecurity experts to further investigate the incident and is taking steps to strengthen its security measures in order to prevent similar breaches from occurring in the future.
Recommendations for Personal Data Protection
How Users Can Protect Their Information
To protect their personal information and accounts from being compromised, users should take the following steps:
– Change their passwords frequently, with a combination of letters, numbers, and symbols.
– Enable two-factor authentication whenever possible.
– Use unique passwords for each account, to prevent hackers from accessing multiple accounts with the same password.
– Be cautious of suspicious emails or messages, as they may contain phishing links that can compromise their accounts.
– Regularly monitor their accounts for any suspicious activity.
What is InsecureWeb?
InsecureWeb is a Dark Web monitoring service that keeps track of recent data breaches and tracks their impact by monitoring the darkest places of the internet. InsecureWeb notifies users and enterprises when their data has been found online and helps them mitigate the impact.