Post Date:
August 7, 2023
---
Daniel Felipe
Data Breach Summary
In a recent discovery, InsecureWeb, a leading cybersecurity company, has uncovered a major security breach affecting the popular cryptocurrency exchange and asset custody platform, Gemini.com. Hackers and cybercriminals are becoming increasingly bold and skilled, posing a significant threat to user data and online security. This breach is a startling reminder that even reputed platforms need to stay vigilant to protect their users from such malicious activities.
On June 9, 2023, InsecureWeb detected a significant data breach relating to the Gemini.com platform. The breach, discovered on the dark web forum, nulled.to, was executed by an individual with the username "nulled121312". The stolen data amounted to approximately 76.3 megabytes, compromising user information stored within the Gemini.com database.
Where and How?
The breach involving Gemini.com occurred within the dark web forums, specifically on the notorious website Nulled.to. This sprawling underground marketplace for cybercriminals facilitates the exchange of stolen data, hacking tools, and other illegal activities. InsecureWeb's dedicated scanning technology actively monitors these platforms, aiming to discover and report security vulnerabilities before they can be exploited.
The precise details of the compromised user information have yet to be fully disclosed, but it is essential to remain vigilant. InsecureWeb, in collaboration with Gemini.com, is actively investigating the extent of the breach, striving to identify the specific data categories that may have been compromised. This cautious approach aims to protect users from any potential risks associated with the security breach.
A Screenshot of the data can be found below: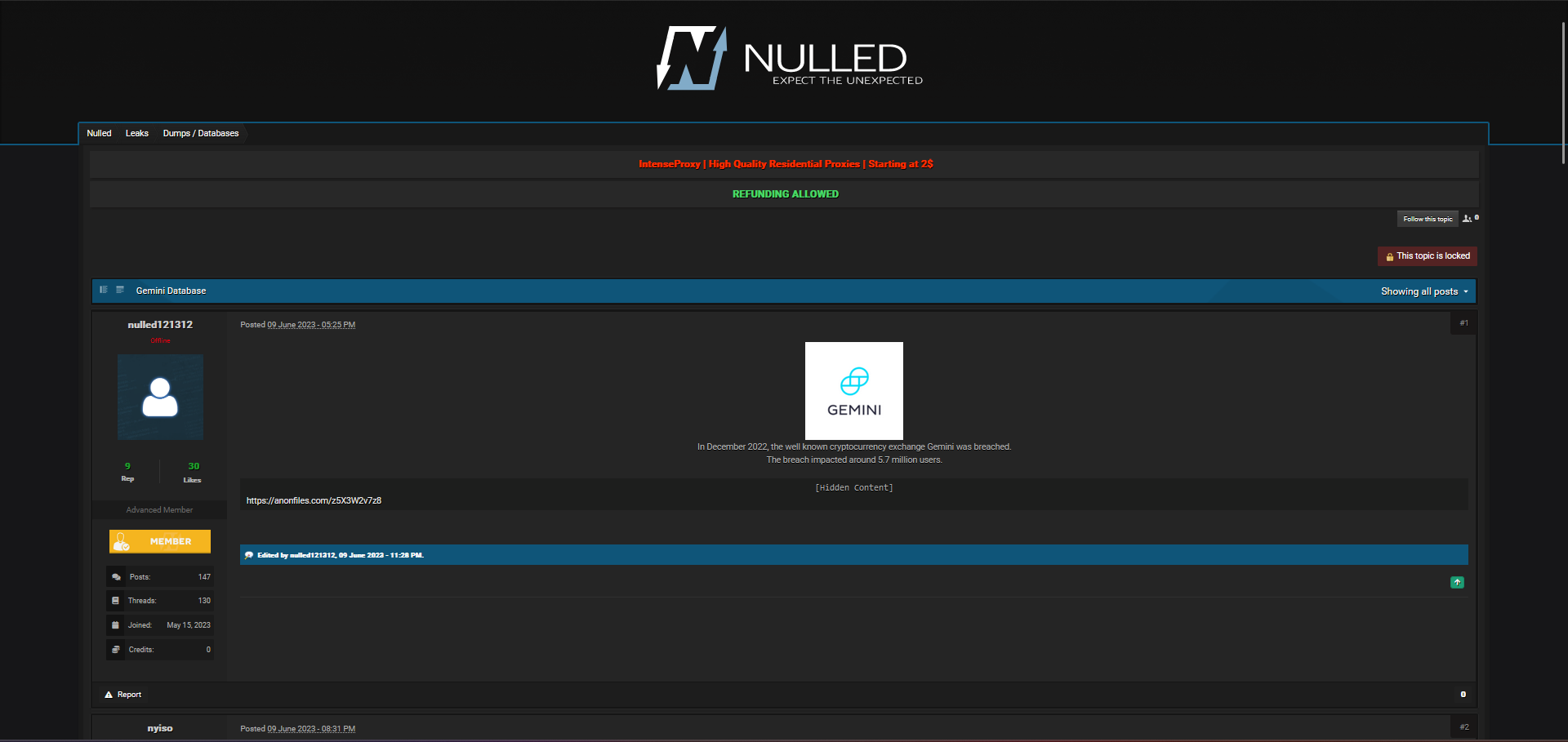 Company Data Breach History
Gemini.com, known for its emphasis on security and regulatory compliance, has largely maintained a positive reputation in the cryptocurrency industry. However, no organization is immune to risks, and Gemini.com has now joined the ranks of recent high-profile data breaches. While the platform's commitment to user safety remains steadfast, this incident underscores the ever-evolving landscape of cybersecurity threats and the crucial need for continuous monitoring and proactive measures.
This site is working with cybersecurity experts to further investigate the incident and is taking steps to strengthen its security measures in order to prevent similar breaches from occurring in the future.
Recommendations for Personal Data Protection
How Users Can Protect Their Information
To protect their personal information and accounts from being compromised, users should take the following steps:
– Change their passwords frequently, with a combination of letters, numbers, and symbols.
– Enable two-factor authentication whenever possible.
– Use unique passwords for each account, to prevent hackers from accessing multiple accounts with the same password.
– Be cautious of suspicious emails or messages, as they may contain phishing links that can compromise their accounts.
– Regularly monitor their accounts for any suspicious activity.
What is InsecureWeb?
InsecureWeb is a Dark Web monitoring service that keeps track of recent data breaches and tracks their impact by monitoring the darkest places of the internet. InsecureWeb notifies users and enterprises when their data has been found online and helps them mitigate the impact.