Post Date:
August 7, 2023
---
Daniel Felipe
Data Breach Summary
In a startling revelation, InsecureWeb, a specialized dark web scanning company, has uncovered a significant security breach affecting the renowned video hosting and sharing platform, BrandNewTube.com. This breach shines a spotlight on the growing challenges of safeguarding user data and underlines the need for robust security measures in the face of evolving cyber threats.
On June 9, 2023, InsecureWeb's security systems detected a substantial data breach involving the BrandNewTube.com website. Detailing the breach on Nulled.to, the cybercriminal known as "nulled121312" maliciously posted stolen user data. The scope of this breach encompasses a staggering 1.69 gigabytes of sensitive information.
Where and How?
The breach involving BrandNewTube.com occurred within the confines of the dark web forum known as Nulled.to—a notorious hub for cybercriminal activities. InsecureWeb's cutting-edge monitoring technology, deployed to counter such threats, successfully detected this breach, enabling prompt action to address potential risks and vulnerabilities.
Regrettably, this breach has exposed an array of user data, including email addresses, genders, IP addresses, passwords, private messages, and usernames. The breadth of compromised information underscores the potential risks users face as a result of this incident.
A Screenshot of the data can be found below: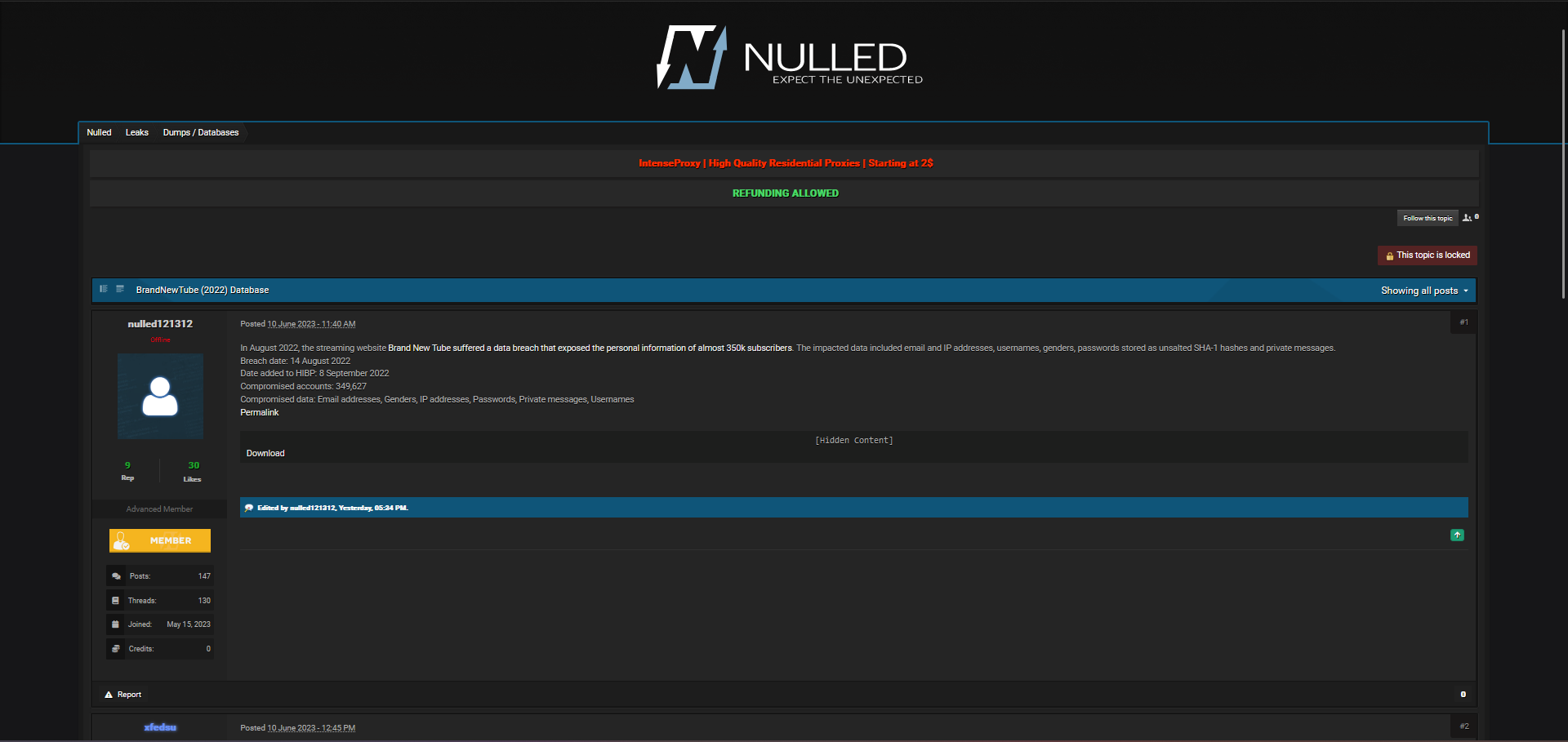 Company Data Breach History
BrandNewTube.com, a video platform championing freedom of expression and uncensored content, has thrived as a space where creators and users can share videos without restrictions, fostering open debates and free expression. However, no organization is impervious to the evolving landscape of cyberattacks. This breach serves as a stark reminder that even platforms committed to such principles must remain vigilant to protect user privacy and data.
This site is working with cybersecurity experts to further investigate the incident and is taking steps to strengthen its security measures in order to prevent similar breaches from occurring in the future.
Recommendations for Personal Data Protection
How Users Can Protect Their Information
To protect their personal information and accounts from being compromised, users should take the following steps:
– Change their passwords frequently, with a combination of letters, numbers, and symbols.
– Enable two-factor authentication whenever possible.
– Use unique passwords for each account, to prevent hackers from accessing multiple accounts with the same password.
– Be cautious of suspicious emails or messages, as they may contain phishing links that can compromise their accounts.
– Regularly monitor their accounts for any suspicious activity.
What is InsecureWeb?
InsecureWeb is a Dark Web monitoring service that keeps track of recent data breaches and tracks their impact by monitoring the darkest places of the internet. InsecureWeb notifies users and enterprises when their data has been found online and helps them mitigate the impact.