Post Date:
August 30, 2023
---
Daniel Felipe
Data Breach Summary
In a shocking revelation, SIPBM ATS Pemalang Regency Government, the official website of the regional information system for Pemalang, a region in Indonesia, has become the victim of a significant security breach. On June 16, 2023, our dedicated team at InsecureWeb detected this breach within the domain of SIPBM.Pemalangkab.go.id. Please note that the breach detection date does not imply the breach occurred on that specific date. The breach involved the compromise of the SIPBM ATS Pemalang Regency Government's database. The hacker known as "zxcv16" claimed responsibility for the breach, openly posting the stolen data on the dark web forum "nulled.to".
While the exact compromised information has not been disclosed, this breach serves as a stark reminder of the vulnerability of government systems, raising concerns about data privacy and governance within Pemalang Regency.
Where and How?
The breach infiltrated the digital domain of SIPBM ATS Pemalang Regency Government, calling into question the robustness of regional governing systems. The exact details of the breach, including how it occurred and the stolen information, have not been publicly disclosed. However, this incident highlights the pressing need for stringent security measures within government entities to safeguard confidential data and maintain the public's trust.
Thorough investigation is required to determine the extent to which confidential information was compromised and the potential impact on regional governance. Identifying the weaknesses in the existing system is vital to prevent future breaches and fortify data protection practices in alignment with evolving cybersecurity threats.
A Screenshot of the data can be found below: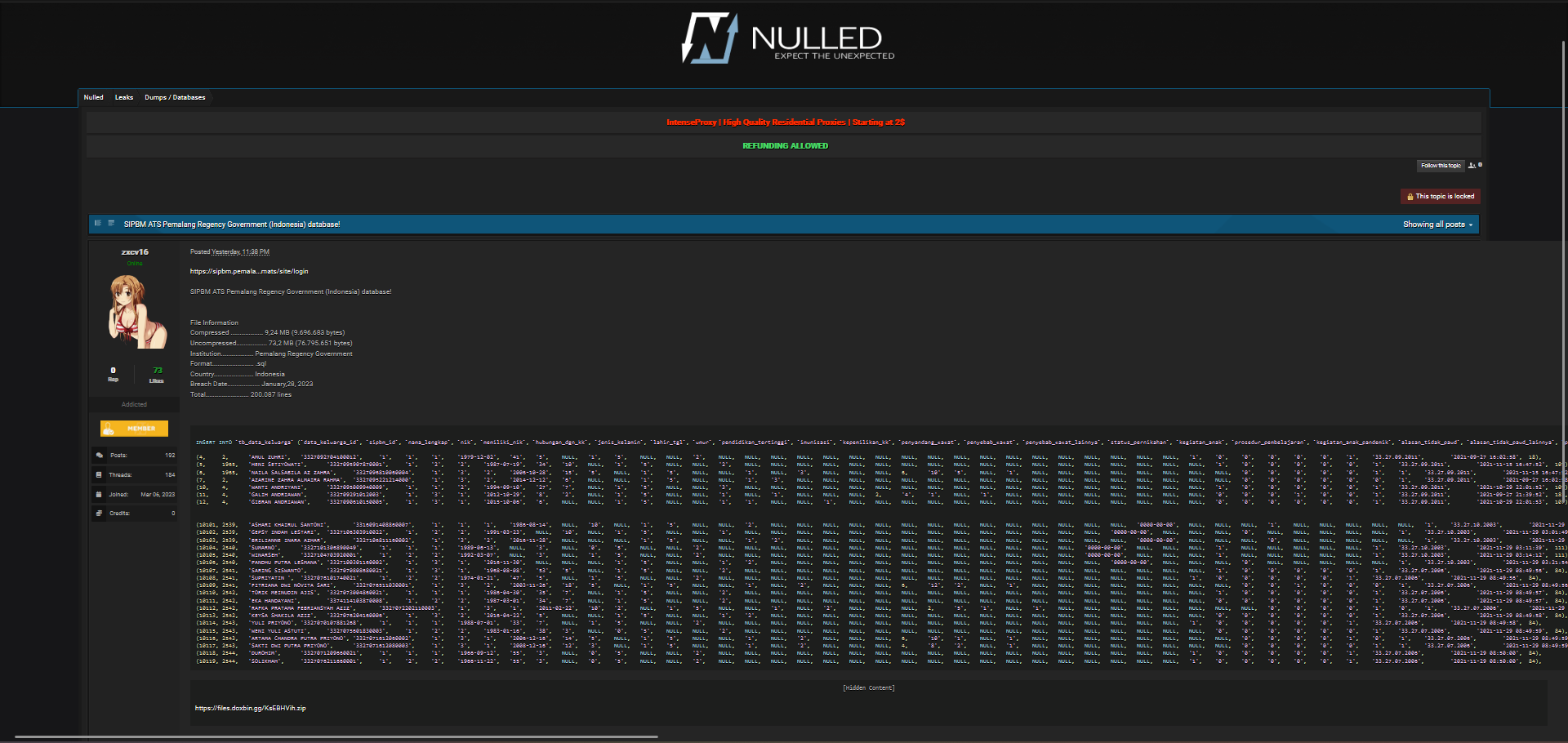 Company Data Breach History
As of now, there is no known history of security breaches specific to SIPBM ATS Pemalang Regency Government. However, this breach illuminates the urgent need for enhanced cybersecurity measures within government systems, especially those dealing with sensitive resident information and regional governance affairs.
To secure the future of regional governance and protect the data privacy of Pemalang residents, comprehensive security audits, rigorous access controls, and continuous monitoring of digital infrastructure should be implemented. Regular staff training on cybersecurity best practices can also foster a culture of awareness and accountability.
Recommendations for Personal Data Protection
How Users Can Protect Their Information
To protect their personal information and accounts from being compromised, users should take the following steps:
– Change their passwords frequently, with a combination of letters, numbers, and symbols.
– Enable two-factor authentication whenever possible.
– Use unique passwords for each account, to prevent hackers from accessing multiple accounts with the same password.
– Be cautious of suspicious emails or messages, as they may contain phishing links that can compromise their accounts.
– Regularly monitor their accounts for any suspicious activity.
What is InsecureWeb?
InsecureWeb is a Dark Web monitoring service that keeps track of recent data breaches and tracks their impact by monitoring the darkest places of the internet. InsecureWeb notifies users and enterprises when their data has been found online and helps them mitigate the impact.