Post Date:
August 30, 2023
---
Daniel Felipe
Data Breach Summary
In a startling revelation, Doxbin, an inactive website known for sharing personal information, commonly referred to as "doxes," has fallen victim to a significant security breach. On June 16, 2023, our vigilant team at InsecureWeb detected this breach within the domain of Doxbin.com. Please note that the breach detection date does not imply the breach occurred on that specific date. The breach involved the compromise of the Doxbin database and was posted by the hacker "nulled121312" on the dark web forum Nulled.
This breach resulted in the unauthorized access and exfiltration of a considerable amount of sensitive information, totaling approximately 104MB of compromised data. Among the pilfered details were browser user agent specifics, email addresses, passwords, and usernames. This breach sends shockwaves through the realm of personal privacy, necessitating immediate action to mitigate potential misuse and protect the affected individuals.
Where and How?
The breach infiltrated the fortified digital domain of Doxbin. Extensive investigations have revealed that the breach was perpetrated and thereafter posted by the hacker "nulled121312" on the dark web forum Nulled. Through sophisticated hacking techniques, the malevolent actor gained unauthorized access to Doxbin's database, targeting personal information that had previously been submitted to the platform.
"Nulled121312" illicitly extracted and subsequently disclosed the stolen information, exacerbating the gravity of this privacy breach. The compromised data, including browser user agent details, email addresses, passwords, and usernames, warrants stringent security measures and preventive countermeasures to mitigate potential cybersecurity risks and protect the privacy of those affected.
A Screenshot of the data can be found below: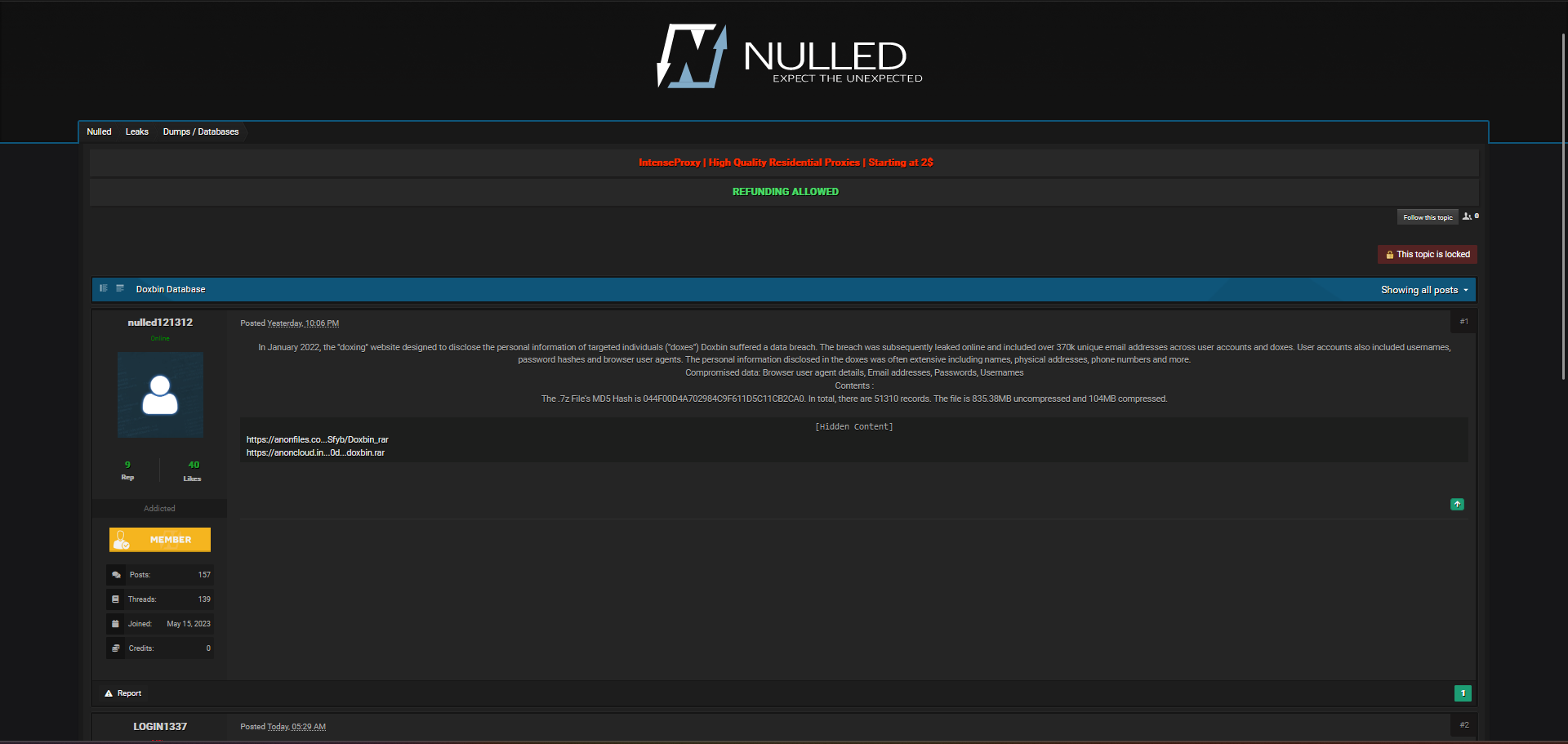 Company Data Breach History
Doxbin, as an inactive website primarily dedicated to sharing personal information, had no known history of reported security breaches prior to this incident. Though this breach reveals significant inadequacies in safeguarding user data, it serves as a sobering reminder of the deep-rooted challenges faced by privacy advocates in the digital realm.
As Doxbin confronts this breach head-on, it is imperative that industry-wide initiatives focus on enforced ethical practices, stringent data protection measures, and strict adherence to privacy regulations. Mitigating the risks associated with personal information sharing remains a pressing concern in contemporary society, demanding ongoing vigilance and proactive efforts to safeguard user privacy.
Recommendations for Personal Data Protection
How Users Can Protect Their Information
To protect their personal information and accounts from being compromised, users should take the following steps:
– Change their passwords frequently, with a combination of letters, numbers, and symbols.
– Enable two-factor authentication whenever possible.
– Use unique passwords for each account, to prevent hackers from accessing multiple accounts with the same password.
– Be cautious of suspicious emails or messages, as they may contain phishing links that can compromise their accounts.
– Regularly monitor their accounts for any suspicious activity.
What is InsecureWeb?
InsecureWeb is a Dark Web monitoring service that keeps track of recent data breaches and tracks their impact by monitoring the darkest places of the internet. InsecureWeb notifies users and enterprises when their data has been found online and helps them mitigate the impact.