Post Date:
April 18, 2023
---
Daniel Felipe
Data Breach Summary
On February 21, 2023, InsecureWeb discovered a data breach affecting the website dcaa.gov.ae. The breach was posted by Hydra Market on their website, HydraMarket. The information compromised in the breach is currently unknown, as is the amount of information stolen. The breach was found on a dark web forum and was discovered by HydraMarket.
Where and How?
The breach occurred on the website dcaa.gov.ae. It is currently unknown how the breach occurred or how long it went undetected. However, it is clear that the breach resulted in the leak of sensitive information.
A Screenshot of the data can be found below: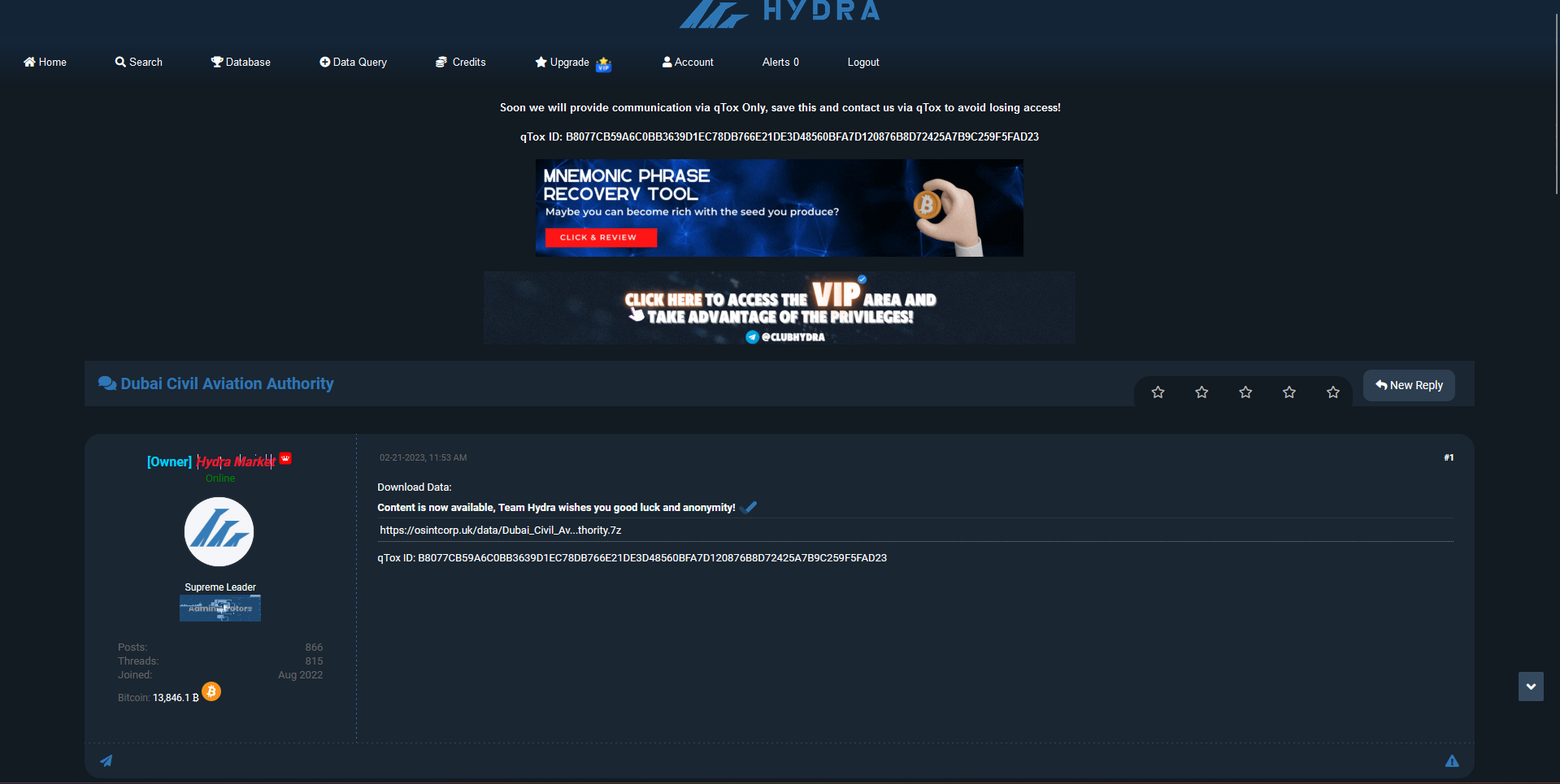 History of Data Breaches at Dubai Civil Aviation Authority
This is the first reported data breach at dcaa.gov.ae. However, given the increasing frequency and sophistication of cyber attacks, it is likely that this will not be the last. The web site is working with cybersecurity experts to further investigate the incident and is taking steps to strengthen its security measures in order to prevent similar breaches from occurring in the future.
Recommendations for Users to Protect Their Personal Information and Accounts
In light of this breach, it is important for users to take proactive steps to protect their personal information and accounts. Here are some practical recommendations:
Change your passwords: If you have an account with dcaa.gov.ae, change your password immediately. Use a strong, unique password that you don't use for any other accounts.
Enable two-factor authentication: Two-factor authentication adds an extra layer of security to your account. It requires a second form of authentication, such as a code sent to your phone, in addition to your password.
Be vigilant of phishing scams: Cyber criminals often use phishing scams to trick users into giving up their login credentials. Be wary of any unsolicited emails or messages asking for your personal information.
By following these best practices for cybersecurity, individuals can reduce the risk of data breaches and protect their personal information and accounts from cyber threats.
What is InsecureWeb?
InsecureWeb is a Dark Web monitoring service that keeps track of recent data breaches and tracks their impact by monitoring the darkest places of the internet. InsecureWeb notifies users and enterprises when their data has been found online and helps them mitigate the impact.