Post Date:
April 18, 2023
---
Daniel Felipe
Data Breach Summary
In February 19, 2023, InsecureWeb discovered a data breach affecting the CityBee.lt site Lithuanian car-sharing service, that compromised the personal information of 100,000 users. The breach was discovered by security researcher ttooppaazz and posted on the HydraMarket website. The stolen data, which amounted to 5.36 MB, included user IDs, usernames, password hashes, names, last names, and personal codes.
Where and How?
The breach was found on a dark web forum and was traced to HydraMarket, a popular marketplace for buying and selling stolen data. It's unclear how the attackers gained access to CityBee's systems, but it's likely they used a combination of social engineering and technical exploits to bypass the company's security measures.
A Screenshot of the data can be found below: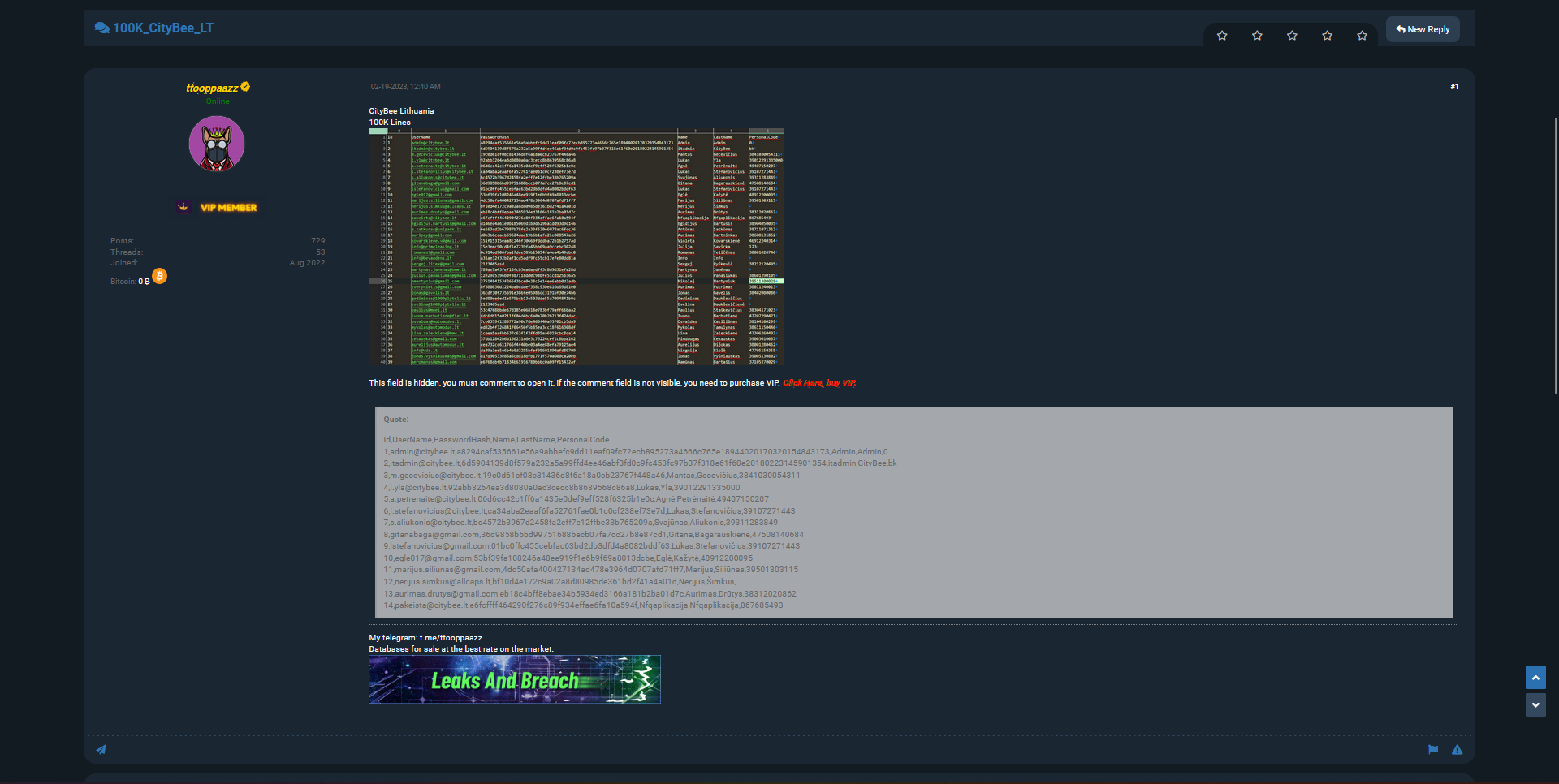 History of Data Breaches at CityBee
This is not the first time CityBee has detect a data breach. In 2022, the company experienced a similar incident that compromised the personal information of 50,000 users. The breach was caused by a vulnerability in the company's payment system, which allowed attackers to steal credit card information. This web is working with cybersecurity experts to further investigate the incident and is taking steps to strengthen its security measures in order to prevent similar breaches from occurring in the future.
Recommendations for Users
If you're a CityBee user, it's important to take immediate action to protect your personal information and accounts. Here are some practical recommendations:
– Change your password: If you're still using the same password you used on CityBee, change it immediately. Choose a strong, unique password that you haven't used on any other website.
– Enable two-factor authentication: CityBee offers two-factor authentication, which adds an extra layer of security to your account. Turn it on to prevent unauthorized access.
– Monitor your accounts: Keep an eye on your bank accounts, credit cards, and other online accounts for any suspicious activity. If you notice anything unusual, report it to the relevant authorities.
By taking these steps, you can reduce the risk of your personal information being compromised and protect your accounts from cyber threats. Stay vigilant and stay safe!
What is InsecureWeb?
InsecureWeb is a Dark Web monitoring service that keeps track of recent data breaches and tracks their impact by monitoring the darkest places of the internet. InsecureWeb notifies users and enterprises when their data has been found online and helps them mitigate the impact.