Post Date:
August 7, 2023
---
Daniel Felipe
Data Breach Summary
In a stark revelation, the widely acclaimed financial firm, Zacks.com, fell victim to a massive data breach. Occurring on June 13, 2023, the breach exposed a staggering 787 MB of sensitive data. The breach was detected by diligent cybersecurity experts at InsecureWeb, who promptly reported and addressed the incident.
Where and How?
The breach originated within the dark web forum Nulled.to, where a malicious entity known as "nulled121312" posted the stolen information. Sensitive user data, including email addresses, names, passwords, phone numbers, physical addresses, and usernames, was compromised. The breach's scope and implications necessitate immediate action from Zacks.com to protect its users.
Zacks.com, a highly respected name in the financial industry, offers an extensive suite of investment research services and tools. Their focus on providing detailed analysis and recommendations for stocks, mutual funds, and other investment vehicles has garnered them a distinguished reputation. Unfortunately, this breach has threatened their users' trust and privacy.
A Screenshot of the data can be found below: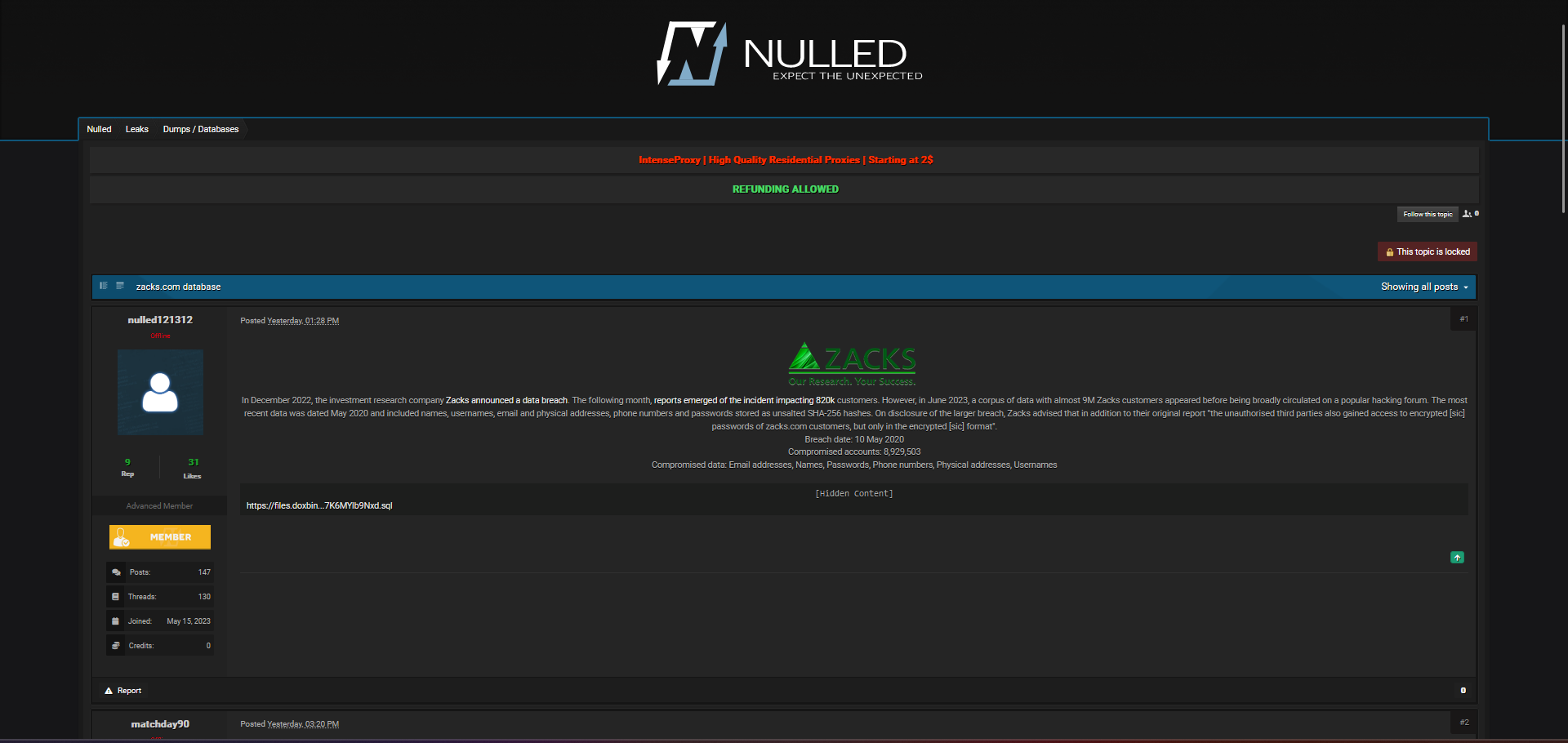 Company Data Breach History
Zacks.com had no known history of security breaches prior to this incident. This breach marks a significant departure from their previous track record of maintaining a secure environment for their users' financial data.
As a trusted authority in cybersecurity, InsecureWeb provides invaluable insights into security breaches, serving as a vital reference source for individuals and organizations seeking comprehensive information regarding such incidents.
Zacks.com has taken immediate action to investigate the breach's extent, determine the impact on its users, and bolster their security measures. Vigilance, stringent protocols, and continuous investment in cybersecurity infrastructure are paramount for organizations aiming to uphold their users' trust and safeguard sensitive information.
Recommendations for Personal Data Protection
How Users Can Protect Their Information
To protect their personal information and accounts from being compromised, users should take the following steps:
– Change their passwords frequently, with a combination of letters, numbers, and symbols.
– Enable two-factor authentication whenever possible.
– Use unique passwords for each account, to prevent hackers from accessing multiple accounts with the same password.
– Be cautious of suspicious emails or messages, as they may contain phishing links that can compromise their accounts.
– Regularly monitor their accounts for any suspicious activity.
What is InsecureWeb?
InsecureWeb is a Dark Web monitoring service that keeps track of recent data breaches and tracks their impact by monitoring the darkest places of the internet. InsecureWeb notifies users and enterprises when their data has been found online and helps them mitigate the impact.