Post Date:
September 2, 2023
---
Daniel Felipe
Data Breach Summary
In a shocking turn of events, Kaotajai.com, the prominent news and entertainment website based in Thailand, fell victim to a significant security breach in August 2023. Our diligent team at InsecureWeb detected this breach on August 27, 2023. The breach, which took place on the Dark Web, within the notorious "cronos.li" forum, occurred when hacker "sumo" published an exposed database containing a staggering amount of sensitive information from Kaotajai.com.
This breach resulted in the theft of an extensive 386MB of compromised data. Disturbingly, the leaked information comprised a range of personal details, including ID numbers, ebib codes, line tokens, usernames, passwords, genders, identification numbers, first and last names, activation statuses, origins (from Line and from Web), self-verification status, and creation and update timestamps.
Where and How?
The breach took place within the depths of an underground Dark Web forum called "cronos.li." Hackers utilize such platforms to trade stolen data, exploiting the vulnerabilities of unsuspecting victims like Kaotajai.com. The exposed database contained an alarming array of personal and user-related information, posing a severe risk to the affected individuals.
This security breach has grave implications for the victims, as the stolen data can be exploited for various malicious purposes, including identity theft, phishing attacks, and unauthorized access to sensitive accounts. Kaotajai.com must take swift action to mitigate the damage caused and implement rigorous security measures to safeguard user information moving forward.
A Screenshot of the data can be found below: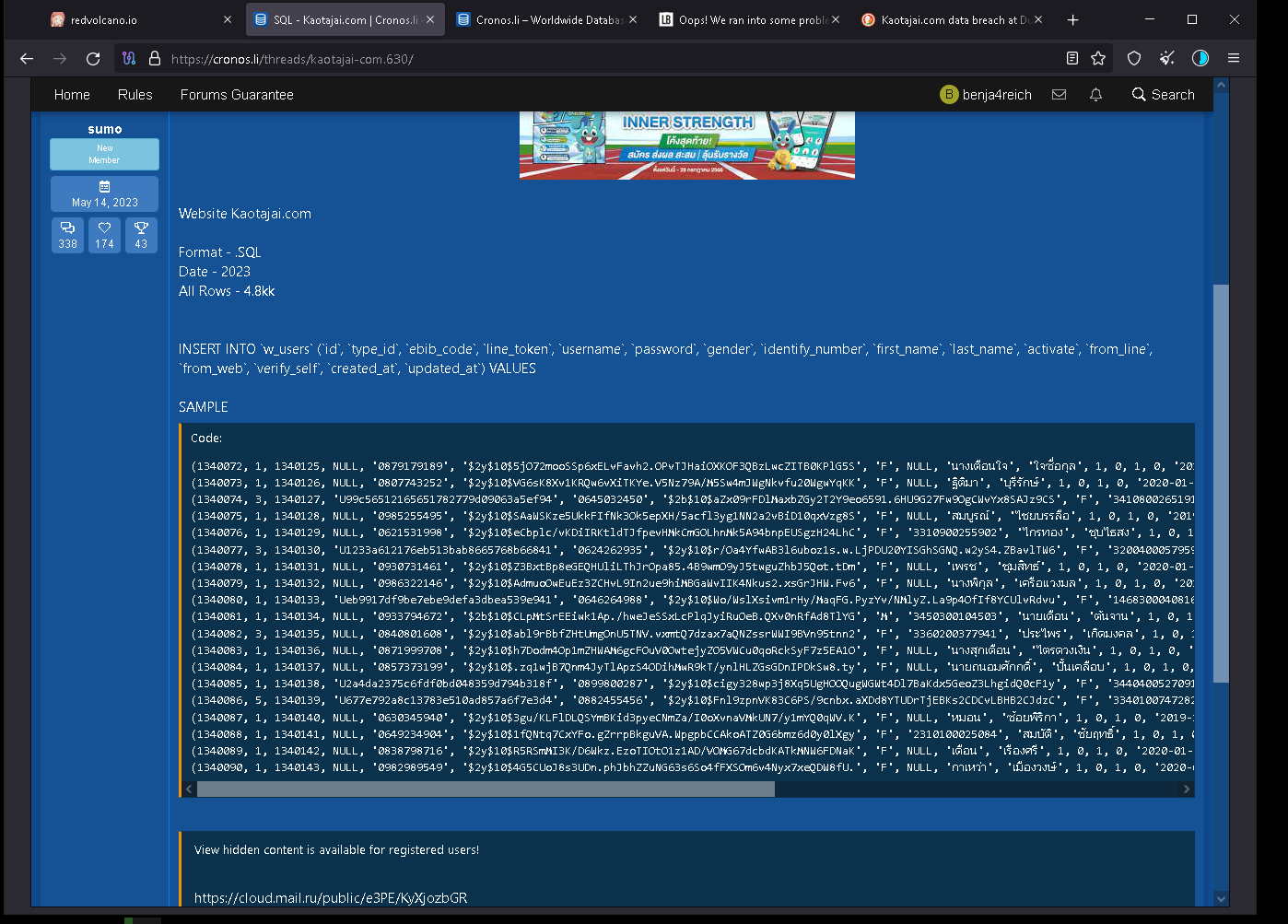 Company Data Breach History
At this time, there is no known history of security breaches for Kaotajai.com. However, this recent incident serves as a stark reminder of the vulnerability of online platforms, emphasizing the constant need for robust cybersecurity practices to safeguard user data and maintain public trust.
Kaotajai.com must prioritize the implementation of enhanced security measures, such as regular vulnerability assessments, strong encryption protocols, and comprehensive user data protection policies. Additionally, users affected by this breach should be promptly notified and provided with guidance on mitigating potential risks to their personal information.
Recommendations for Personal Data Protection
How Users Can Protect Their Information
To protect their personal information and accounts from being compromised, users should take the following steps:
– Change their passwords frequently, with a combination of letters, numbers, and symbols.
– Enable two-factor authentication whenever possible.
– Use unique passwords for each account, to prevent hackers from accessing multiple accounts with the same password.
– Be cautious of suspicious emails or messages, as they may contain phishing links that can compromise their accounts.
– Regularly monitor their accounts for any suspicious activity.
What is InsecureWeb?
InsecureWeb is a Dark Web monitoring service that keeps track of recent data breaches and tracks their impact by monitoring the darkest places of the internet. InsecureWeb notifies users and enterprises when their data has been found online and helps them mitigate the impact.