---
Daniel Felipe
Data Breach Summary
Sogaz.ru, a leading Russian insurance company that offers a wide range of insurance services, including car insurance, property insurance, and life insurance, has suffered a massive data breach. The breach was detected by our company, InsecureWeb, during a routine scan on the dark web. The breach occurred on an unknown date and was posted on the website Nulled by a user named Nymora on April 27, 2023.
Amount of Information Stolen:
The data breach resulted in the leakage of approximately 867 MB of data, which included the full database of Sogaz.ru with 8,349,000 users, totaling 5.1 GB.
Compromised Information:
The leaked information contained sensitive personal and financial information of Sogaz.ru users, including their names, addresses, email addresses, phone numbers, dates of birth, social security numbers, and financial information such as credit card numbers and bank account details.
Where and How?
The breach was discovered on a dark web forum called Nulled.to, which is notorious for being used by hackers and cybercriminals to share stolen data, malware, and other illicit activities. It is believed that Nymora is a member of a group of hackers that specializes in data breaches.
A Screenshot of the data can be found below: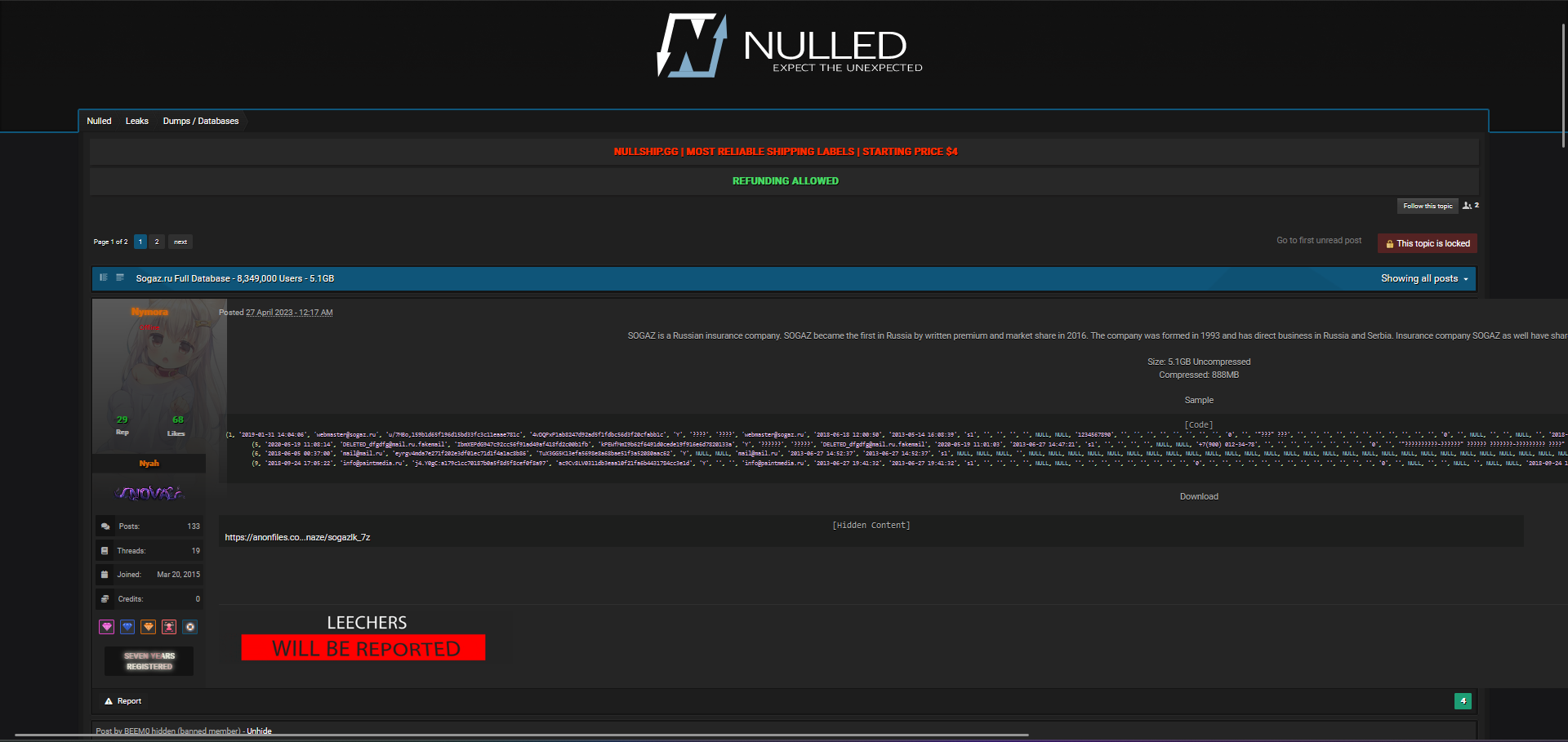 Company Data Breach History
This is the first known data breach that Sogaz.ru has suffered. However, it serves as a reminder for all companies of the importance of taking appropriate security measures to protect user data. This site is working with cybersecurity experts to further investigate the incident and is taking steps to strengthen its security measures in order to prevent similar breaches from occurring in the future.
This data breach is a significant reminder that all companies must prioritize the security of their users' data and take proactive measures to protect it from the threat of cyberattacks. We urge all companies to review their security protocols and take necessary steps to ensure their users' data is safe and secure. In the meantime, we recommend that users of Sogaz.ru monitor their accounts for any suspicious activity and report any unauthorized transactions to their financial institution. It is also essential for individuals to use caution when sharing their personal and financial information online and to use strong and unique passwords for all of their online accounts.
Recommendations for Personal Data Protection
How Users Can Protect Their Information
To protect their personal information and accounts from being compromised, users should take the following steps:
– Change their passwords frequently, with a combination of letters, numbers, and symbols.
– Enable two-factor authentication whenever possible.
– Use unique passwords for each account, to prevent hackers from accessing multiple accounts with the same password.
– Be cautious of suspicious emails or messages, as they may contain phishing links that can compromise their accounts.
– Regularly monitor their accounts for any suspicious activity.
What is InsecureWeb?
InsecureWeb is a Dark Web monitoring service that keeps track of recent data breaches and tracks their impact by monitoring the darkest places of the internet. InsecureWeb notifies users and enterprises when their data has been found online and helps them mitigate the impact.