Post Date:
April 14, 2023
---
Daniel Felipe
Data Breach Summary
On March 18, 2023,InsecureWeb discovered a data breach affecting the online marketplace onlinetrade.ru . The breach, which was first posted by Pavlov on the dark web forum HydraMarket, exposed the personal information of 3.7 million users. The information stolen in the breach included names, email addresses, phone numbers, and MD5 hashed passwords. The total size of the stolen data was 67.3 MB.
Onlinetrade.ru, a limited liability company, has been in the online market for over 24 years, with a network of retail stores and over 500,000 products in their own warehouse. This data breach is not the first time that the company has been targeted.
Company Data Breach History
In 2019, they suffered a similar attack, in which personal data of their clients was stolen. Onlinetrade.ru is working with cybersecurity experts to further investigate the incident and is taking steps to strengthen its security measures in order to prevent similar breaches from occurring in the future.
Where and How?
The breach was first discovered on HydraMarket, a dark web forum that is notorious for being a hub for illegal activities and a Screenshot of the data can be found below: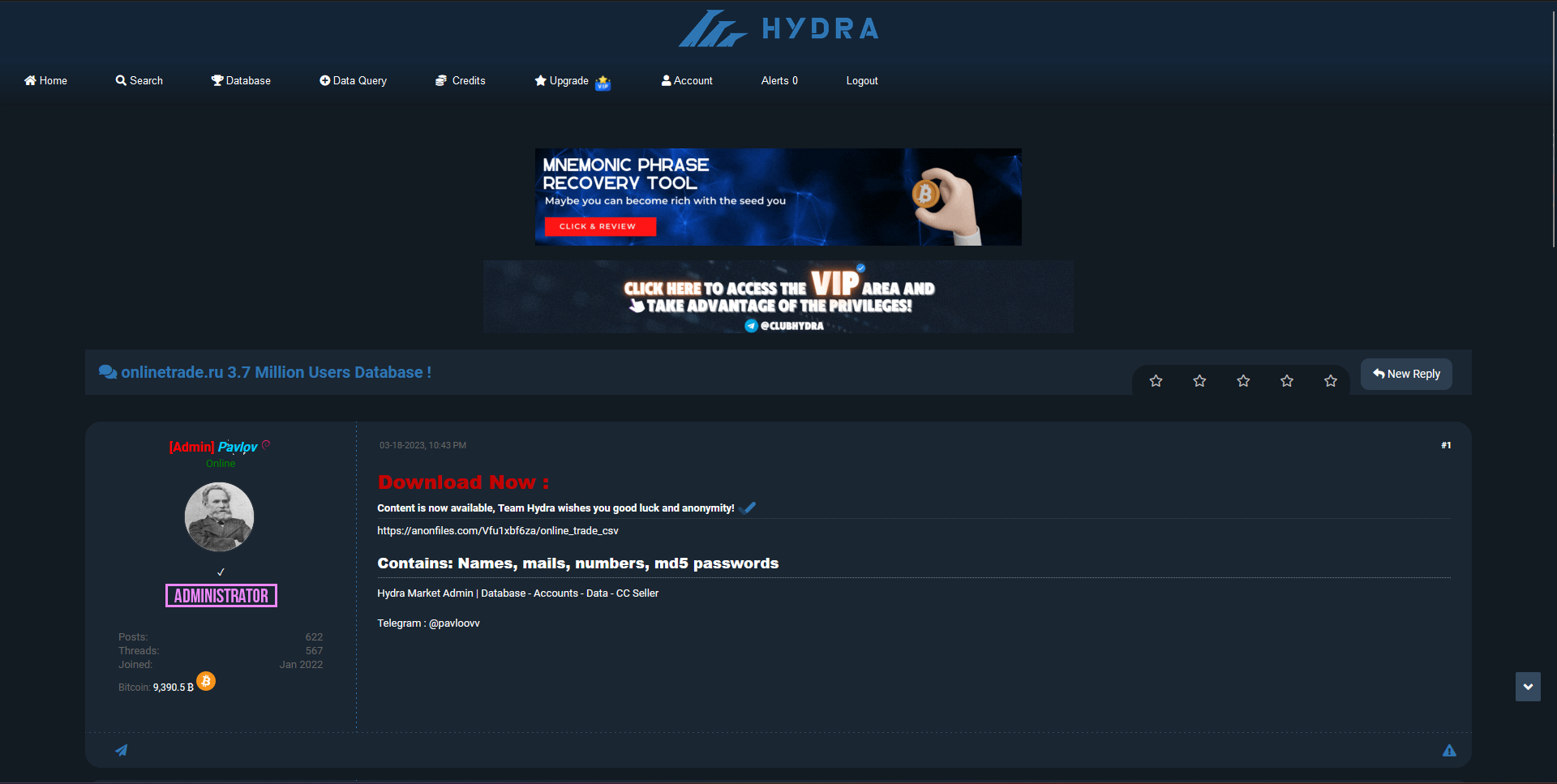 HydraMarket is known for being a place where hackers and cybercriminals can sell and trade stolen data. This raises concerns about the potential for further unauthorized access to the stolen data.
To protect their personal information and accounts associated with the Online Trade.ru service, users are advised to change their passwords immediately. It is also recommended that users enable two-factor authentication, as this adds an extra layer of security to their accounts. Additionally, users should monitor their accounts for any suspicious activity and report any unauthorized access to the appropriate authorities.
What is InsecureWeb?
InsecureWeb is a Dark Web monitoring service that keeps track of recent data breaches and tracks their impact by monitoring the darkest places of the internet. InsecureWeb notifies users and enterprises when their data has been found online and helps them mitigate the impact.