Post Date:
November 18, 2023
---
Daniel Felipe
Data Breach Summary
In a shocking security breach discovered by InsecureWeb, a staggering amount of sensitive data has been exposed. On 01-06-2023, our team detected a breach of over 1.2 million ComboList records, originating from the USA. The breach occurred on an undisclosed date, and the compromised information includes emails, passwords, and other personal data. The breach was found on a Dark Web forum and reported immediately.
Where and How?
The security breach was found in the depths of the Dark Web, within a notorious forum known as Database.io. This underground platform is a hub for cybercriminals to exchange stolen data, and unfortunately, it was the chosen avenue for this combolist breach. The hacker, who goes by the name "bob," successfully infiltrated the system and leaked a vast amount of sensitive information.
The compromised data, totaling 38.5MB, includes a substantial number of emails and passwords. This poses a significant risk to individuals whose credentials may be exposed. InsecureWeb swiftly detected the breach, ensuring the necessary steps were taken to alert the affected parties and mitigate further damage.
A Screenshot of the data can be found below: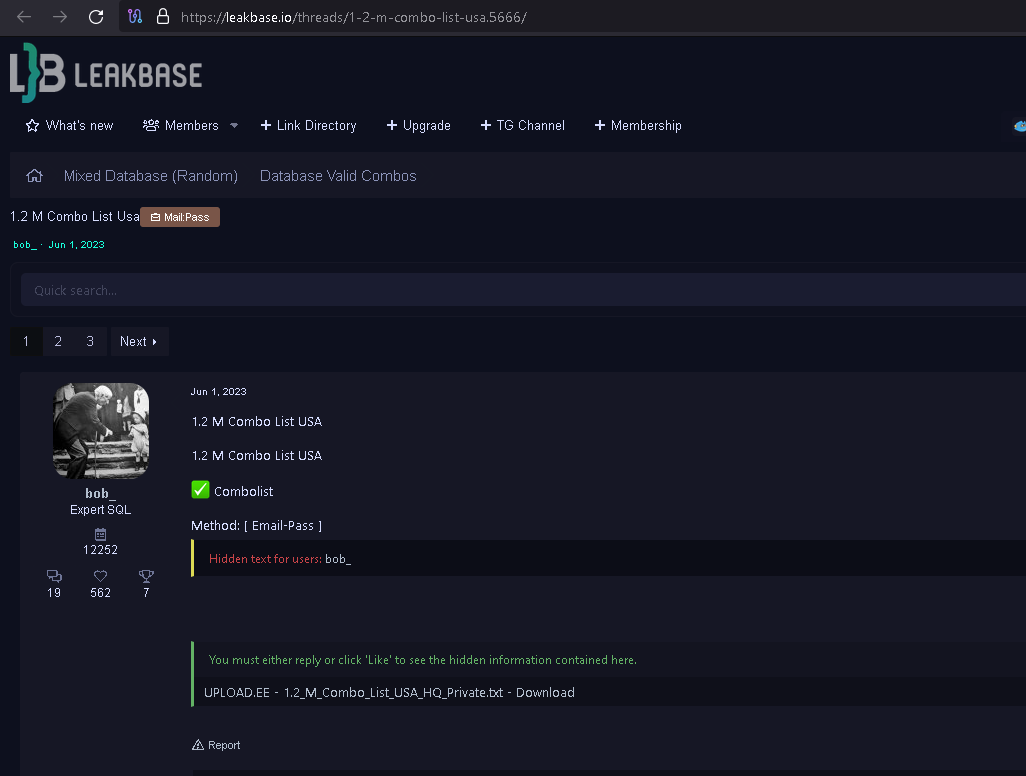 Company Data Breach History
This combined list type security breach has no known history of previous security breaches. This incident represents the first known violation of this nature by the victims. However, it is essential to note that combolist violations have become increasingly frequent in recent years. Cybercriminals often attack databases containing combinations of email addresses and associated passwords, allowing them to gain unauthorized access to various platforms and systems.
Combolist violations represent a serious threat to both individuals and organizations. Once obtained by hackers, these lists can be used as a weapon for widespread cyberattacks, including credential stuffing and phishing attempts. It is essential that everyone remains vigilant and adopts robust security measures to protect themselves from the repercussions of such breaches.
Recommendations for Personal Data Protection
How Users Can Protect Their Information
To protect their personal information and accounts from being compromised, users should take the following steps:
– Change their passwords frequently, with a combination of letters, numbers, and symbols.
– Enable two-factor authentication whenever possible.
– Use unique passwords for each account, to prevent hackers from accessing multiple accounts with the same password.
– Be cautious of suspicious emails or messages, as they may contain phishing links that can compromise their accounts.
– Regularly monitor their accounts for any suspicious activity.
What is InsecureWeb?
InsecureWeb is a Dark Web monitoring service that keeps track of recent data breaches and tracks their impact by monitoring the darkest places of the internet.
Our commitment lies in providing top-notch cybersecurity services to our clients. Through continuous monitoring of the dark web and advanced threat detection methodologies, we strive to identify potential breaches promptly, enabling swift response and mitigation efforts. With our state-of-the-art tools and expertise, we prioritize the confidentiality, integrity, and availability of our clients' data.