Post Date:
September 16, 2023
---
Daniel Felipe
Data Breach Summary
In a recent security breach, laloelectronica.com, an online store specializing in electronic products in Mexico, experienced a significant compromise of personal information. This breach was detected by our diligent dark web scanning team at InsecureWeb on June 11, 2023. The perpetrator behind this breach is known as "sumo," who posted the leaked data on the dark web forum "Cronos."
The breach involved unauthorized access to a database containing sensitive customer information from laloelectronica.com. The compromised data includes names, surnames, email addresses, passwords, and unique identification numbers (IDs).
Where and How?
This breach was traced to the dark web forum "Cronos," renowned for hosting illegal activities such as data breaches and trade of stolen information. The hacker known as "sumo" was responsible for disclosing the compromised customer data, which encompassed valuable personal information associated with laloelectronica.com.
Further investigation revealed that the breach specifically targeted the customer database of laloelectronica.com. The unauthorized access granted the hacker access to critical personal data, including names, surnames, email addresses, passwords, and unique identification numbers (IDs).
A Screenshot of the data can be found below: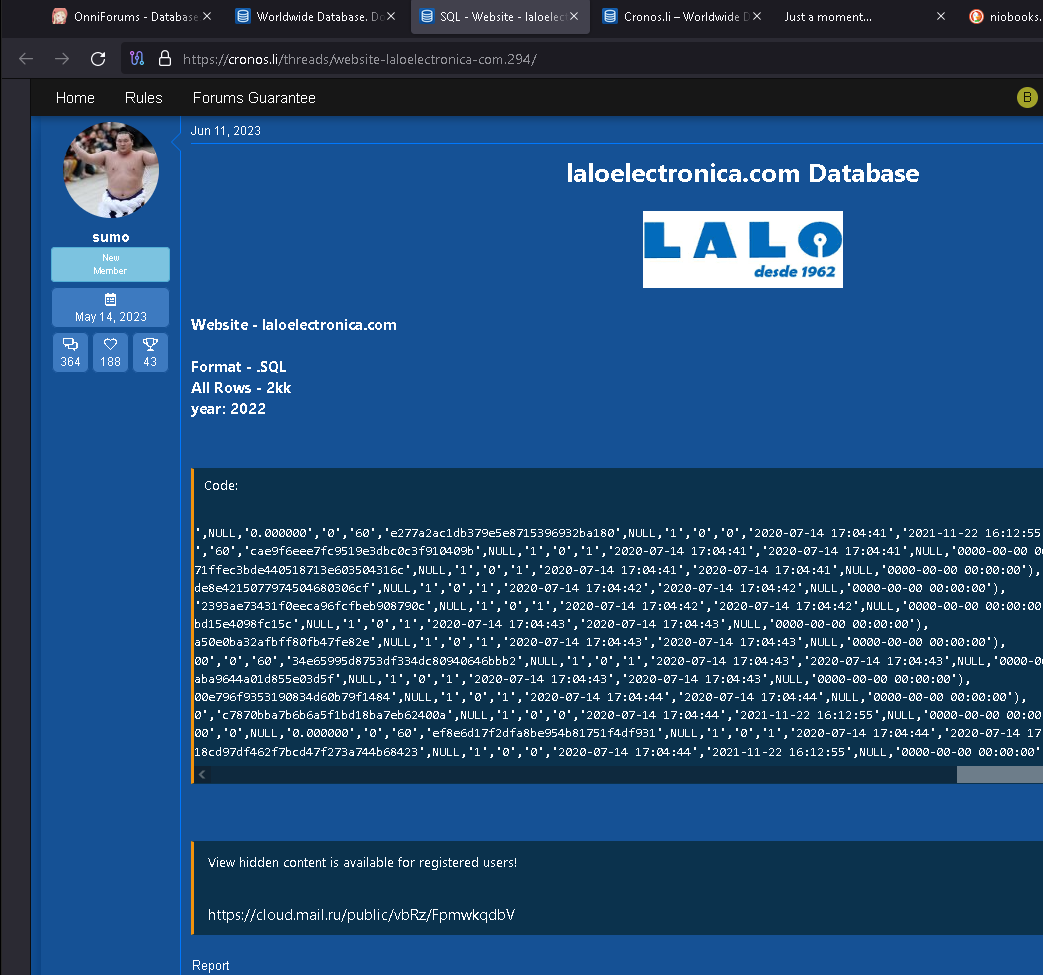 Company Data Breach History
To date, there is no known history of security breaches reported for laloelectronica.com. This breach highlights the challenging task faced by online stores in safeguarding customer data and reinforces the need for robust security measures to protect against potential breaches.
laloelectronica.com is taking swift action by collaborating with cybersecurity experts to thoroughly investigate the breach. Their primary objective is to identify any vulnerabilities and strengthen their security protocols to prevent future incidents, ensuring the protection of customer information.
Recommendations for Personal Data Protection
How Users Can Protect Their Information
To protect their personal information and accounts from being compromised, users should take the following steps:
– Change their passwords frequently, with a combination of letters, numbers, and symbols.
– Enable two-factor authentication whenever possible.
– Use unique passwords for each account, to prevent hackers from accessing multiple accounts with the same password.
– Be cautious of suspicious emails or messages, as they may contain phishing links that can compromise their accounts.
– Regularly monitor their accounts for any suspicious activity.
What is InsecureWeb?
InsecureWeb is a Dark Web monitoring service that keeps track of recent data breaches and tracks their impact by monitoring the darkest places of the internet. InsecureWeb notifies users and enterprises when their data has been found online and helps them mitigate the impact.