---
Daniel Felipe
Data Breach Summary
InsecureWeb, a company dedicated to scanning the dark web in search of security breaches, has detected a data breach in Knuddels.de, a German social network that allows users to chat, play games, and meet new people. The breach occurred in June 2023 and was posted by nulled121312 on the website Nulled. A total of 912,000 user credentials, including email addresses and passwords, were stolen.
Where and How?
The security breach was found in a Dark Web forum and was posted on Nulled.to. The method of attack used by the hacker is unknown, but it is believed that they gained unauthorized access to Knuddels.de's database.
A Screenshot of the data can be found below: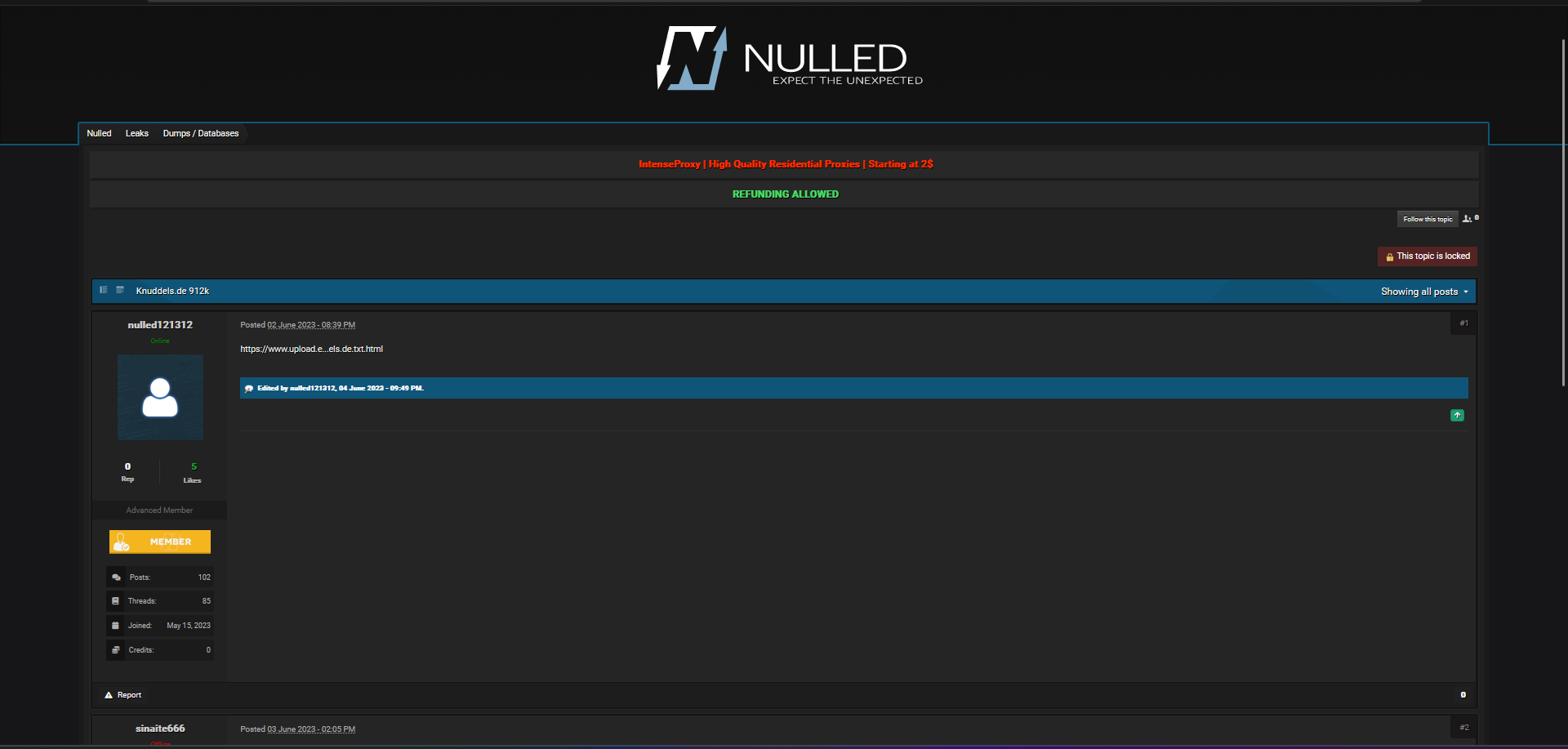 Company Data Breach History
In 2018, Knuddels.de suffered a data breach that affected 1.8 million users. In that breach, personal information such as usernames, passwords, and email addresses were stolen. The company responded quickly by notifying affected users and implementing stronger security measures. However, this recent breach shows that even with stronger security measures in place, companies can still fall victim to data breaches.
InsecureWeb recommends that all Knuddels.de users affected by the breach change their passwords immediately and monitor their financial accounts for any suspicious activity. It is also recommended that the company implements even stronger security measures to prevent future attacks and keep its users' data safe.
This breach highlights the importance of user credentials protection. To keep your data safe, it is important to use strong and unique passwords for each account and enable two-factor authentication whenever possible. Companies must also take necessary precautions to protect their users' data and privacy, including implementing strong security measures such as encryption, regular security audits, and employee training on security best practices. Companies must also have a response plan in place in the event of a data breach, including how to notify affected users and regulatory authorities. By taking these measures, companies can help prevent data breaches and protect their users' valuable information from falling into the wrong hands.
Recommendations for Personal Data Protection
How Users Can Protect Their Information
To protect their personal information and accounts from being compromised, users should take the following steps:
– Change their passwords frequently, with a combination of letters, numbers, and symbols.
– Enable two-factor authentication whenever possible.
– Use unique passwords for each account, to prevent hackers from accessing multiple accounts with the same password.
– Be cautious of suspicious emails or messages, as they may contain phishing links that can compromise their accounts.
– Regularly monitor their accounts for any suspicious activity.
What is InsecureWeb?
InsecureWeb is a Dark Web monitoring service that keeps track of recent data breaches and tracks their impact by monitoring the darkest places of the internet. InsecureWeb notifies users and enterprises when their data has been found online and helps them mitigate the impact.