---
Daniel Felipe
Data Breach Summary
InsecureWeb, a cybersecurity firm specializing in scanning the dark web for security breaches, has detected a data breach at infiniton.es, an online retailer in Spain. On April 1, 2023, a hacker group called #@Leaked_Breached_Hacked_Database posted the compromised information on the messaging app Telegram. The breach compromised approximately 985 KB of data, including customers' names, surnames, emails, sales data, date of registration, last visit, and other personal information.
Where and How?
InsecureWeb discovered the security breach on Telegram, where #@Leaked_Breached_Hacked_Database posted the compromised information. It is unclear how the hackers were able to access the data, but it is suspected that they used advanced hacking techniques to breach the website's security defenses.
A Screenshot of the data can be found below: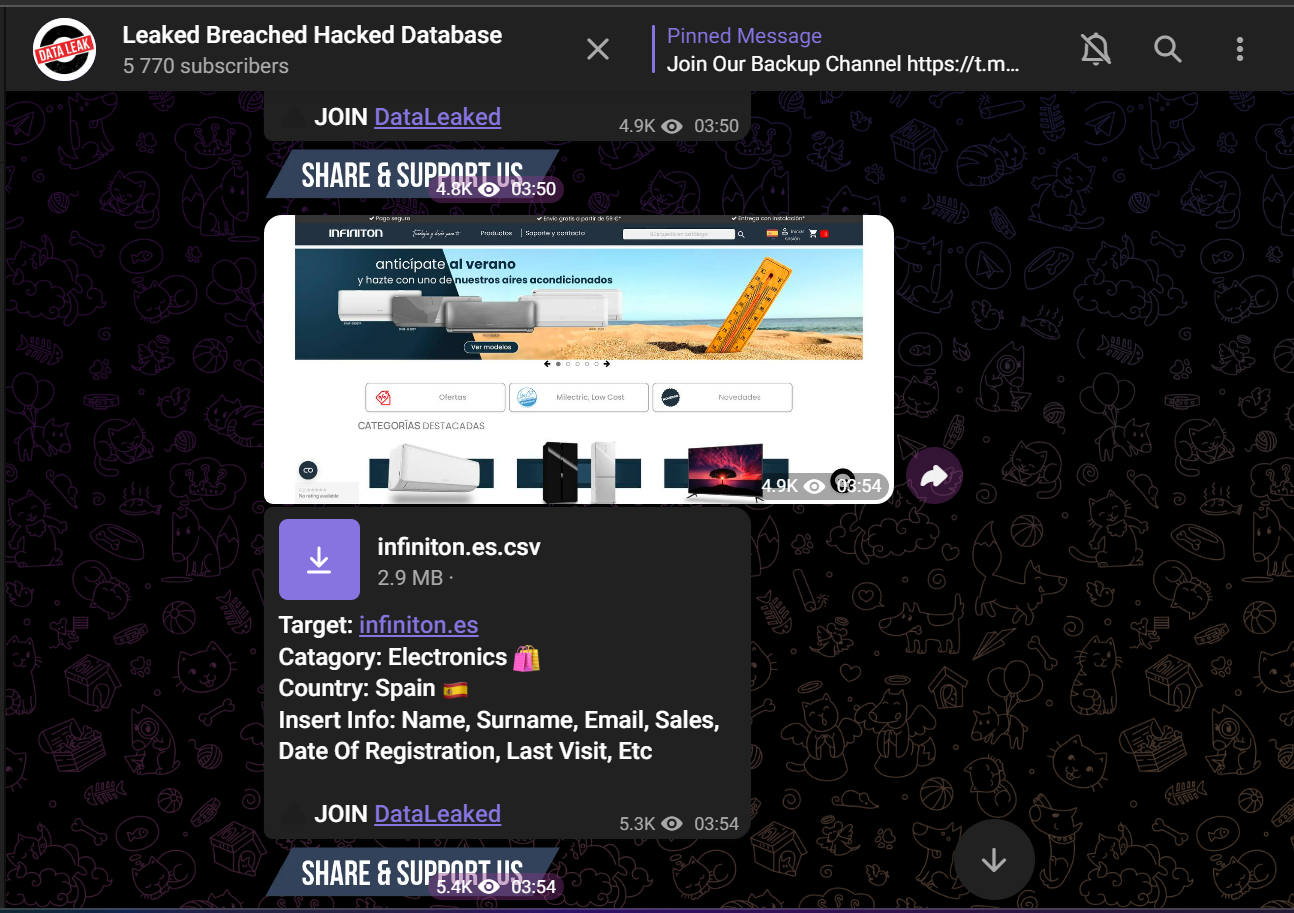 Company Data Breach History
Infiniton.es is an online retailer that offers a wide selection of electronics and appliances in Spain. This is the first time that the website has suffered a data breach, and it raises concerns for the millions of customers who have used the website to make purchases. The company has issued a public statement acknowledging the breach and has assured its customers that it will take all necessary measures to prevent such incidents in the future.
Recommendations for Personal Data Protection
How Users Can Protect Their Information
To protect their personal information and accounts from being compromised, users should take the following steps:
– Change their passwords frequently, with a combination of letters, numbers, and symbols.
– Enable two-factor authentication whenever possible.
– Use unique passwords for each account, to prevent hackers from accessing multiple accounts with the same password.
– Be cautious of suspicious emails or messages, as they may contain phishing links that can compromise their accounts.
– Regularly monitor their accounts for any suspicious activity.
What is InsecureWeb?
InsecureWeb is a Dark Web monitoring service that keeps track of recent data breaches and tracks their impact by monitoring the darkest places of the internet. InsecureWeb notifies users and enterprises when their data has been found online and helps them mitigate the impact.