Post Date:
September 16, 2023
---
Daniel Felipe
Data Breach Summary
In a concerning security breach, hr.nafpo.in, the website of the National Association of Forest Police in India, suffered a significant compromise of personal and sensitive information. This breach was detected by our vigilant dark web scanning team at InsecureWeb on July 14, 2023. The responsible hacker, known as "sumo," shared the stolen data on the dark web forum "Cronos."
The breach involved unauthorized access to a database containing a substantial amount of vital information from hr.nafpo.in. The compromised data includes IDs, user IDs, student names, mobile numbers, dates of birth, gender, Aadhaar numbers, center IDs, block statuses, emails, student unique keys, final submission statuses, village IDs, form IDs, transaction IDs, modification timestamps, creation timestamps, active status, staff names, registration places, ID proof details, pin codes, father names, mother names, category information, special category information, economic statuses, disability statuses, highest qualifications, percentage scores, migrant statuses, employment places, employment sectors, monthly wages, current occupations, aspired careers, training types, training modes, declarations, remarks, addresses, passing years, and expected salaries.
Where and How?
This breach occurred predominantly on the dark web forum "Cronos," notorious for hosting illicit activities, including data breaches and the trading of stolen information. The hacker, "sumo," was responsible for releasing the compromised data, which encompassed highly sensitive personal information associated with hr.nafpo.in.
Further investigation revealed that the breach specifically targeted the database of hr.nafpo.in. Unauthorized access allowed the hacker to obtain an extensive array of personal information, including IDs, user IDs, student names, contact details, demographic information, unique identifiers, and a host of other significant data points.
A Screenshot of the data can be found below: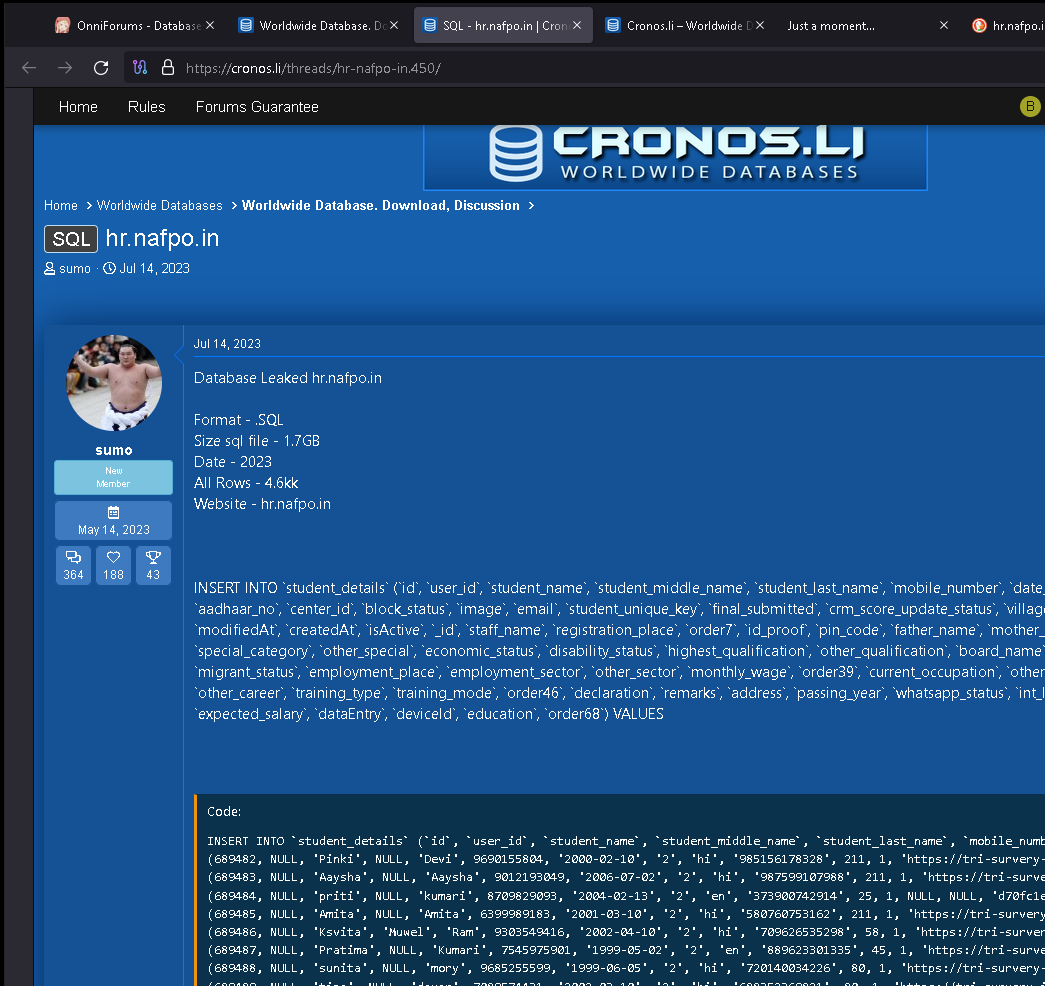 Company Data Breach History
To the best of our knowledge, there is no known history of security breaches reported for hr.nafpo.in. This breach highlights the increasing challenges faced by organizations, emphasizing the urgency of implementing robust security measures to safeguard personal and sensitive information.
The National Association of Forest Police in India is actively addressing the breach, working with cybersecurity experts to investigate the incident thoroughly. Their objective is to fortify their security protocols, identify vulnerabilities, and prevent future breaches that could compromise personal data and undermine public trust.
Recommendations for Personal Data Protection
How Users Can Protect Their Information
To protect their personal information and accounts from being compromised, users should take the following steps:
– Change their passwords frequently, with a combination of letters, numbers, and symbols.
– Enable two-factor authentication whenever possible.
– Use unique passwords for each account, to prevent hackers from accessing multiple accounts with the same password.
– Be cautious of suspicious emails or messages, as they may contain phishing links that can compromise their accounts.
– Regularly monitor their accounts for any suspicious activity.
What is InsecureWeb?
InsecureWeb is a Dark Web monitoring service that keeps track of recent data breaches and tracks their impact by monitoring the darkest places of the internet. InsecureWeb notifies users and enterprises when their data has been found online and helps them mitigate the impact.