Post Date:
September 29, 2023
---
Daniel Felipe
Data Breach Summary
In a recently detected security breach, Godaddy.com, a leading American web hosting and domain registration service provider, experienced a breach that resulted in the compromise of client data. The breach, referred to as "godaddy 09-2023 leaked by Ninja Defender 16-09-2023," was discovered by InsecureWeb on 16th September 2023 during our vigilant scanning of the dark web. The breach involved the theft of approximately 46.5KB of data, with a primary focus on client emails.
Where and How?
The breach originated within chat applications, specifically on the platform Telegram.org. Adversaries exploited vulnerabilities within the chat app, gaining unauthorized access to Godaddy.com's systems and compromising the security of client email information. It is crucial to note that no additional personally identifiable information (PII) or financial data were compromised in this breach.
Godaddy.com, a trusted web hosting and domain registration service provider, offers a range of technology-related services to individuals and businesses. Despite their dedication to maintaining robust security measures, this breach highlights the persistent risks faced by organizations in the digital landscape. In response to the breach, Godaddy.com has launched a thorough investigation to identify the root cause and strengthen their security protocols, ensuring enhanced protection against future breaches.
A Screenshot of the data can be found below: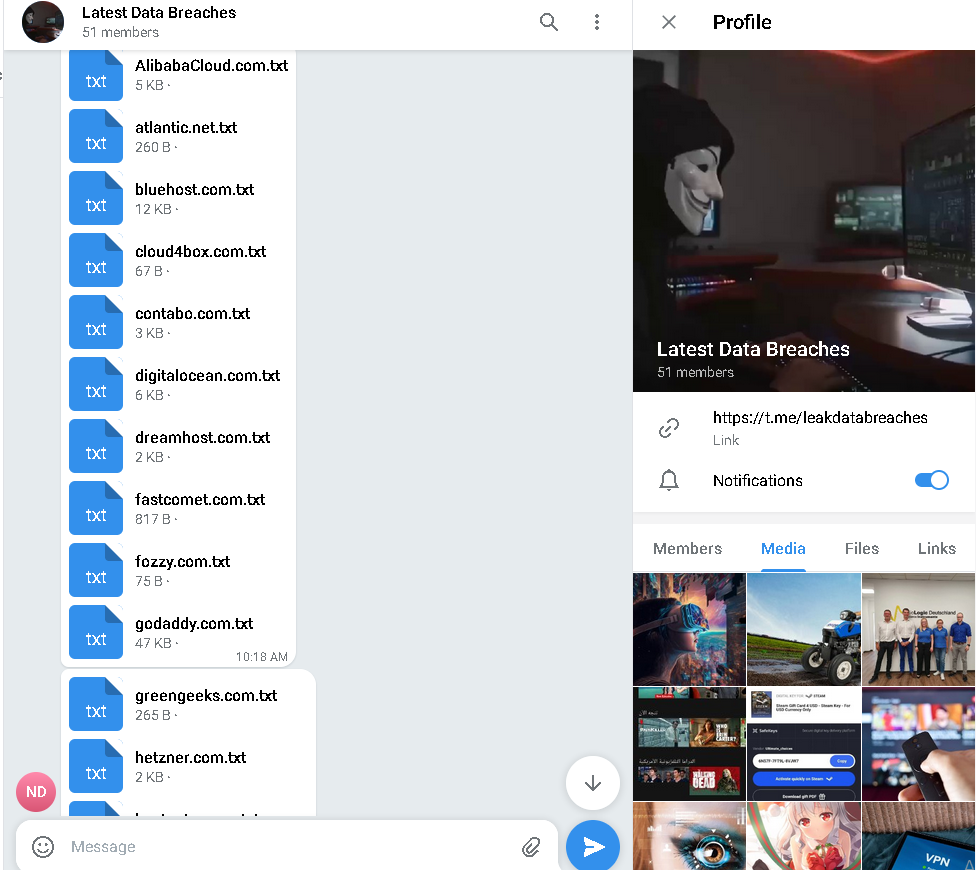 Company Data Breach History
To the best of our knowledge, there is no known history of prior security breaches affecting Godaddy.com. This breach represents an unfortunate occurrence and emphasizes the need for organizations to remain proactive in mitigating security risks. As the threat landscape continues to evolve, organizations must prioritize consistent evaluation and reinforcement of security measures to safeguard sensitive information and maintain client trust.
This breach serves as a reminder to organizations of all sizes to continuously assess and strengthen their security practices. By implementing comprehensive security protocols, conducting regular vulnerability assessments, and fostering a culture of cybersecurity awareness among employees, organizations can fortify their defenses against emerging threats.
Partnering with trusted cybersecurity providers like InsecureWeb is essential in today's dynamic threat landscape. Together, we can help organizations bolster their security posture, detect and respond to potential breaches proactively, and protect valuable data. Let this incident serve as a catalyst for organizations to heighten their security measures and prioritize cybersecurity as a fundamental aspect of their business operations.
Recommendations for Personal Data Protection
How Users Can Protect Their Information
To protect their personal information and accounts from being compromised, users should take the following steps:
– Change their passwords frequently, with a combination of letters, numbers, and symbols.
– Enable two-factor authentication whenever possible.
– Use unique passwords for each account, to prevent hackers from accessing multiple accounts with the same password.
– Be cautious of suspicious emails or messages, as they may contain phishing links that can compromise their accounts.
– Regularly monitor their accounts for any suspicious activity.
What is InsecureWeb?
InsecureWeb is a Dark Web monitoring service that keeps track of recent data breaches and tracks their impact by monitoring the darkest places of the internet.
Our commitment lies in providing top-notch cybersecurity services to our clients. Through continuous monitoring of the dark web and advanced threat detection methodologies, we strive to identify potential breaches promptly, enabling swift response and mitigation efforts. With our state-of-the-art tools and expertise, we prioritize the confidentiality, integrity, and availability of our clients' data.