Post Date:
September 2, 2023
---
Daniel Felipe
Data Breach Summary
In a distressing development, Eurojobs.com, the esteemed online portal dedicated to job search and recruitment across Europe, has encountered a significant security breach. Our diligent team at InsecureWeb detected this breach on September 1, 2023, unmasking a compromised database containing a vast amount of sensitive information. The breach has been attributed to the hacker "sumo" and was traced back to the Dark Web forum known as "cronos.li."
Where and How?
During this breach, unauthorized access was gained to a database hosting invaluable information from Eurojobs.com. The leaked data includes unique identifiers (sids), usernames, passwords, email addresses, user group sids, registration dates, the last visit timestamp, activation and verification keys, IP addresses, parent sids, reference uids, original passwords, first and last names, country, state, city, address, phone numbers, company names, contact names, websites, zip codes, extUserIDs, nationalities, dual nationalities, work permissions, alternative phone numbers, and alternative emails. Orchestrated by the hacker "sumo" and exposed on the Dark Web, this breach poses significant risks to individuals seeking employment and employers across Europe, potentially compromising personal information and employment prospects.
This incident serves as a stark reminder of the ever-present threats in the digital domain. It underscores the critical need for platforms like Eurojobs.com to fortify their digital infrastructure and implement stringent cybersecurity protocols, ensuring the protection of user information against unauthorized access and potential misuse.
A Screenshot of the data can be found below: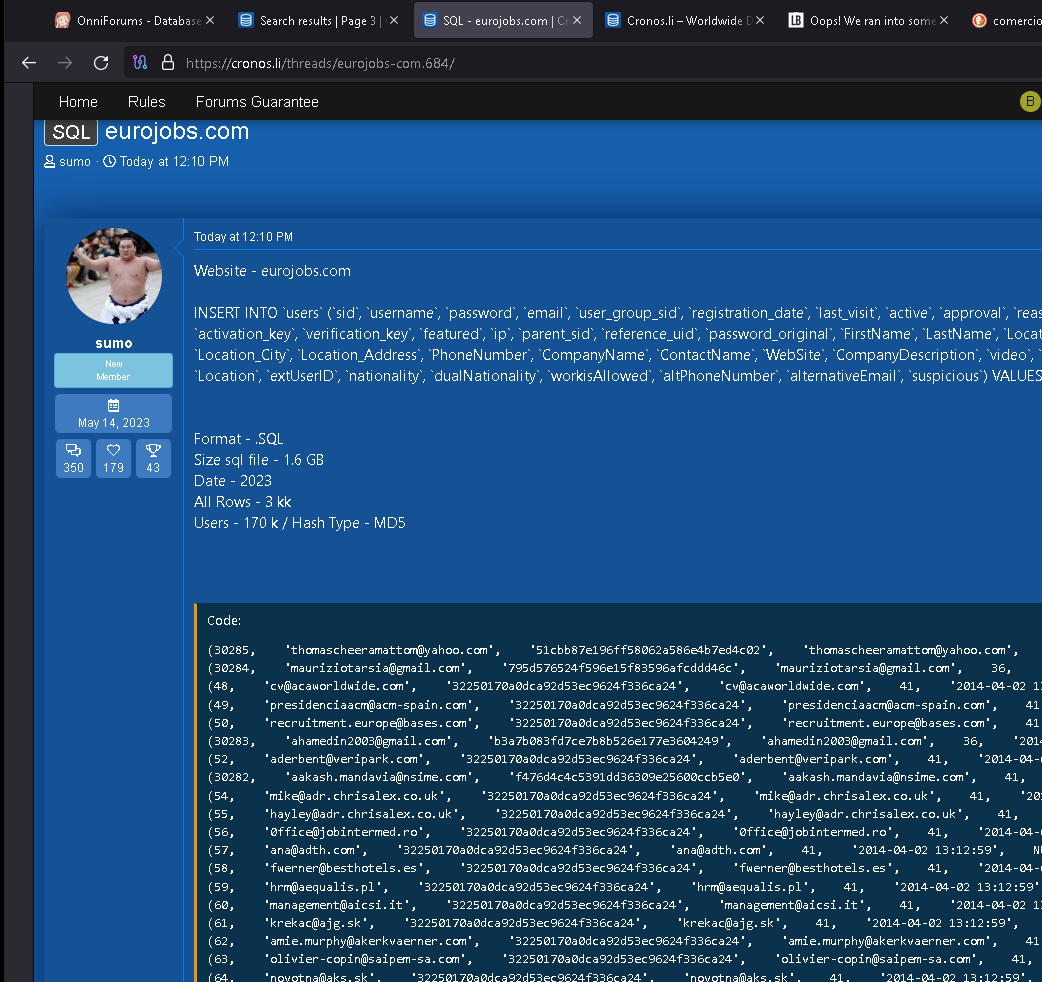 Company Data Breach History
To date, Eurojobs.com has no known history of previous security breaches. However, this breach marks a crucial turning point, demanding enhanced focus on data protection and privacy measures. Immediate action is necessary to mitigate potential consequences, including identity theft, phishing attempts, and other cybercrimes.
Affected individuals are strongly advised to exercise caution, change passwords promptly, monitor their accounts for suspicious activity, and remain vigilant against potential fraud or identity theft.
e.
Recommendations for Personal Data Protection
How Users Can Protect Their Information
To protect their personal information and accounts from being compromised, users should take the following steps:
– Change their passwords frequently, with a combination of letters, numbers, and symbols.
– Enable two-factor authentication whenever possible.
– Use unique passwords for each account, to prevent hackers from accessing multiple accounts with the same password.
– Be cautious of suspicious emails or messages, as they may contain phishing links that can compromise their accounts.
– Regularly monitor their accounts for any suspicious activity.
What is InsecureWeb?
InsecureWeb is a Dark Web monitoring service that keeps track of recent data breaches and tracks their impact by monitoring the darkest places of the internet. InsecureWeb notifies users and enterprises when their data has been found online and helps them mitigate the impact.