---
Daniel Felipe
Data Breach Summary
Originalam.net, an e-commerce website offering a wide selection of fashion products and accessories for men and women, has suffered a data breach. The breach occurred on February 20, 2023, and was posted by the notorious hacker group #@BreachedData on their Telegram channel. The breach compromised sensitive information of the company's clients, including their personal details, such as id, firstname, lastname, email, dob, phone, address, region, and password.
According to the information provided by the hacker group, a total of 6.31 MB of data has been stolen from the website's servers. It is not yet clear how many clients have been affected, but it is believed to be a significant number.
Where and How?
The breach was detected by InsecureWeb, a security company that specializes in scanning the dark web for security breaches. InsecureWeb's team found the stolen data on the Telegram channel #@BreachedData, which is known for sharing stolen information from various websites.
A Screenshot of the data can be found below: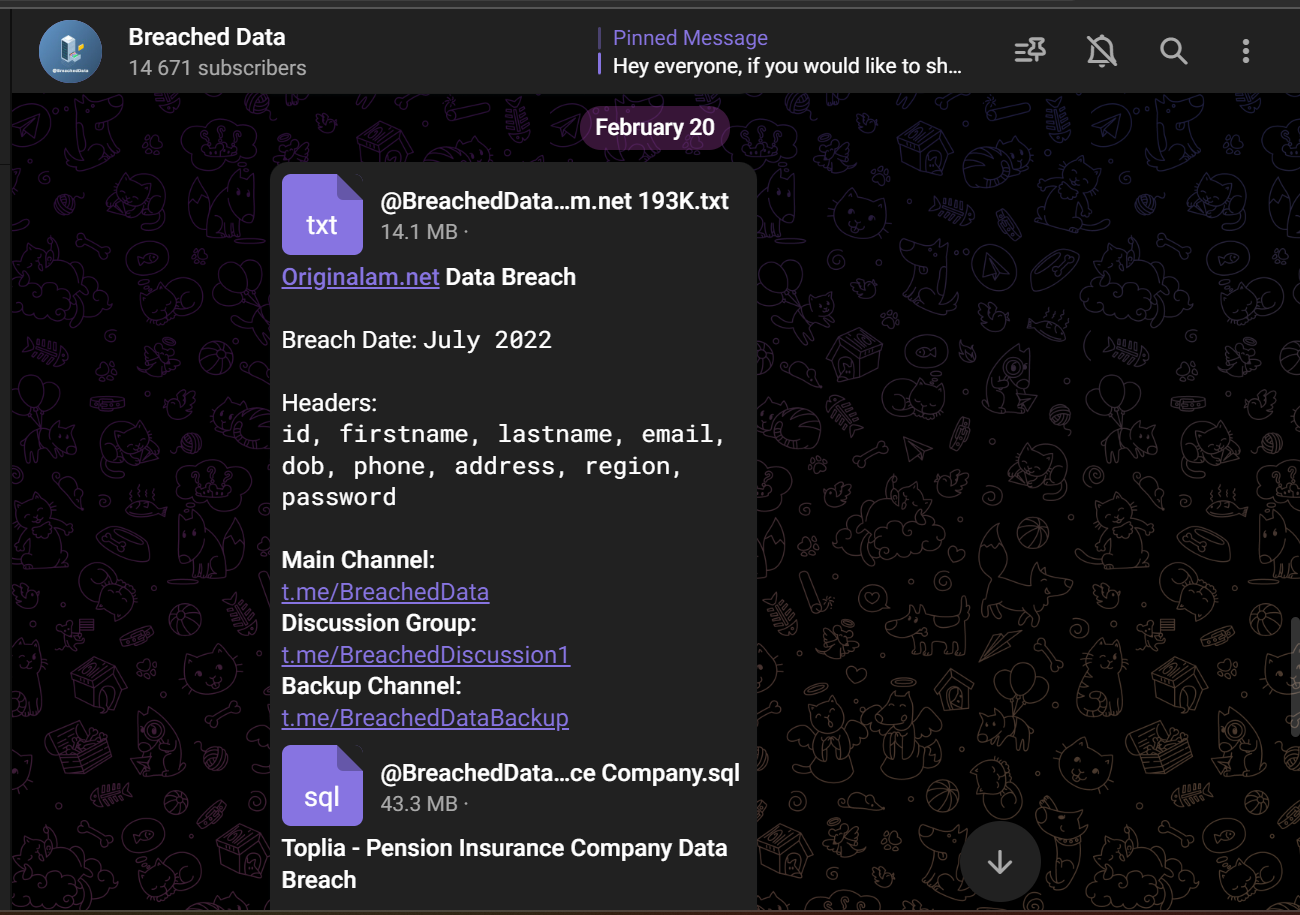 Company Data Breach History
This is not the first time that Originalam.net has suffered a data breach. In 2020, the company suffered a similar attack that compromised the personal information of its clients. The breach was attributed to a vulnerability in the company's website that allowed hackers to gain access to the servers.
Originalam.net has not yet released an official statement regarding the recent breach. However, InsecureWeb has notified the company and is working with them to secure their servers and prevent further breaches.
Recommendations for Personal Data Protection
How Users Can Protect Their Information
To protect their personal information and accounts from being compromised, users should take the following steps:
– Change their passwords frequently, with a combination of letters, numbers, and symbols.
– Enable two-factor authentication whenever possible.
– Use unique passwords for each account, to prevent hackers from accessing multiple accounts with the same password.
– Be cautious of suspicious emails or messages, as they may contain phishing links that can compromise their accounts.
– Regularly monitor their accounts for any suspicious activity.
What is InsecureWeb?
InsecureWeb is a Dark Web monitoring service that keeps track of recent data breaches and tracks their impact by monitoring the darkest places of the internet. InsecureWeb notifies users and enterprises when their data has been found online and helps them mitigate the impact.