Post Date:
September 29, 2023
---
Daniel Felipe
Data Breach Summary
In a recent detected security breach, contabo.com, a prominent German web hosting and dedicated server provider, experienced a breach compromising client data. The breach, referred to as "contabo 09-2023 leaked by Ninja Defender 16-09-2023," was identified by InsecureWeb on 16th September 2023 during our comprehensive scanning of the dark web. The breach involved a theft of approximately 3.45KB of data, predominantly comprising client emails.
Where and How?
The breach occurred within chat applications, specifically on the platform Telegram.org. Exploiting vulnerabilities within the chat app, cybercriminals gained unauthorized access to contabo.com's systems, compromising client email information. Although the stolen data primarily consisted of emails, no other personally identifiable information (PII) or financial data were compromised.
Contabo.com, a reputable German hosting and dedicated server provider, offers a wide range of services to businesses globally. While dedicated to maintaining robust security measures, this incident demonstrates the persistent risks faced by organizations in today's digital landscape. In response to the breach, contabo.com has initiated immediate investigations to identify the breach's cause, enhance security protocols, and mitigate future risks effectively.
A Screenshot of the data can be found below: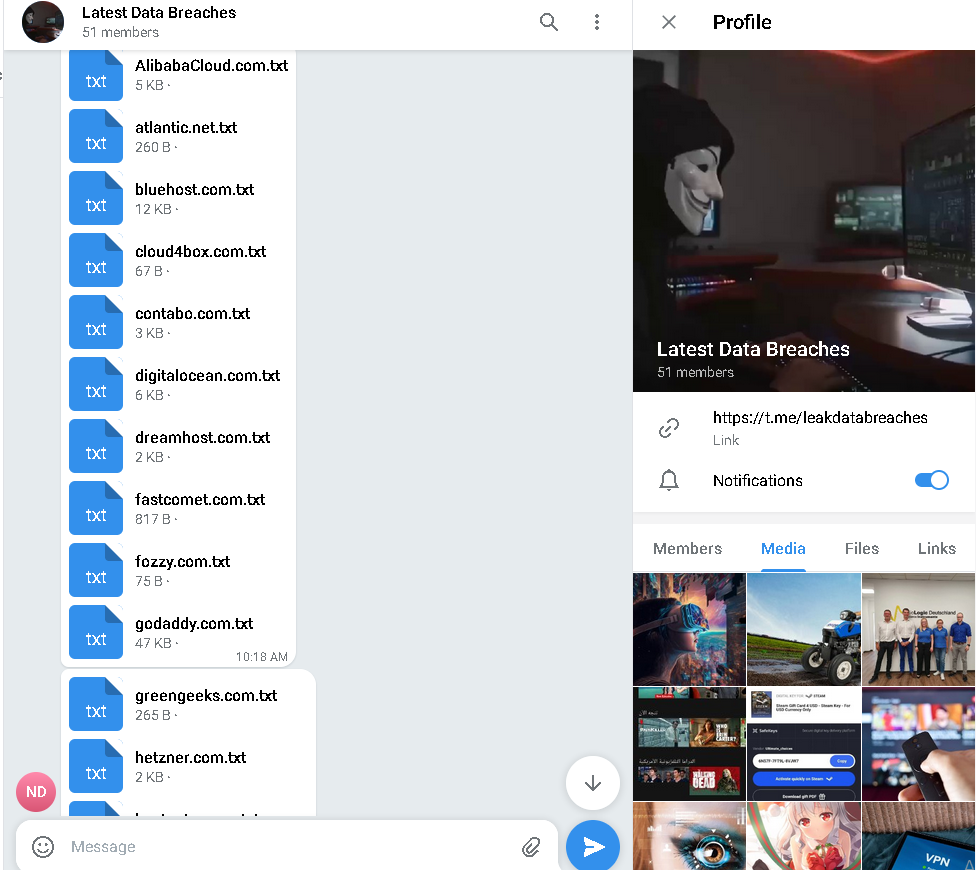 Company Data Breach History
To the best of our knowledge, there is no known history of prior security breaches affecting contabo.com. This recent incident marks a significant breach, highlighting the importance of ongoing cybersecurity efforts for businesses across all sectors. In an increasingly interconnected world, maintaining a proactive approach to security is crucial for organizations to safeguard their sensitive information and protect their clients' trust.
This unfortunate breach serves as a reminder that organizations must continuously evaluate and strengthen their security measures. Regularly updating software, implementing robust access controls, and educating employees on cybersecurity best practices are essential steps towards creating a resilient security posture.
By remaining vigilant, investing in comprehensive security measures, and partnering with trusted cybersecurity providers like InsecureWeb, businesses can significantly reduce the risk of falling victim to these increasingly sophisticated cyber threats.
Recommendations for Personal Data Protection
How Users Can Protect Their Information
To protect their personal information and accounts from being compromised, users should take the following steps:
– Change their passwords frequently, with a combination of letters, numbers, and symbols.
– Enable two-factor authentication whenever possible.
– Use unique passwords for each account, to prevent hackers from accessing multiple accounts with the same password.
– Be cautious of suspicious emails or messages, as they may contain phishing links that can compromise their accounts.
– Regularly monitor their accounts for any suspicious activity.
What is InsecureWeb?
InsecureWeb is a Dark Web monitoring service that keeps track of recent data breaches and tracks their impact by monitoring the darkest places of the internet. InsecureWeb notifies users and enterprises when their data has been found online and helps them mitigate the impact.