Post Date:
September 16, 2023
---
Daniel Felipe
Data Breach Summary
In a recent security breach, ClaraHair.com, a trusted online service specializing in the sale of human hair extensions and wigs, fell victim to a significant compromise of customer data. Our vigilant dark web scanning team at InsecureWeb detected the breach on August 2023. The responsible hacker, known as "sumo," leaked the compromised data on the dark web forum called "Cronos.li."
The breach involved unauthorized access to a database containing crucial customer information from ClaraHair.com. Approximately 71.8MB of sensitive data, including customer IDs, order details, payment information, shipping addresses, product names, and prices, was illicitly accessed and subsequently published on the dark web.
Where and How?
The breach took place within a dark web forum known as "Cronos.li," renowned for facilitating illicit activities, data breaches, and the trading of stolen information. It was within this hidden online space that the hacker, "sumo," chose to expose the stolen ClaraHair.com data.
During our investigation, it was determined that the breach targeted ClaraHair.com's customer database, where personal and transactional information is securely stored. Unfortunately, the stolen data includes customer IDs, order status, source, customer names, emails, contact numbers, payment details, shipping information, and product-related details.
A Screenshot of the data can be found below: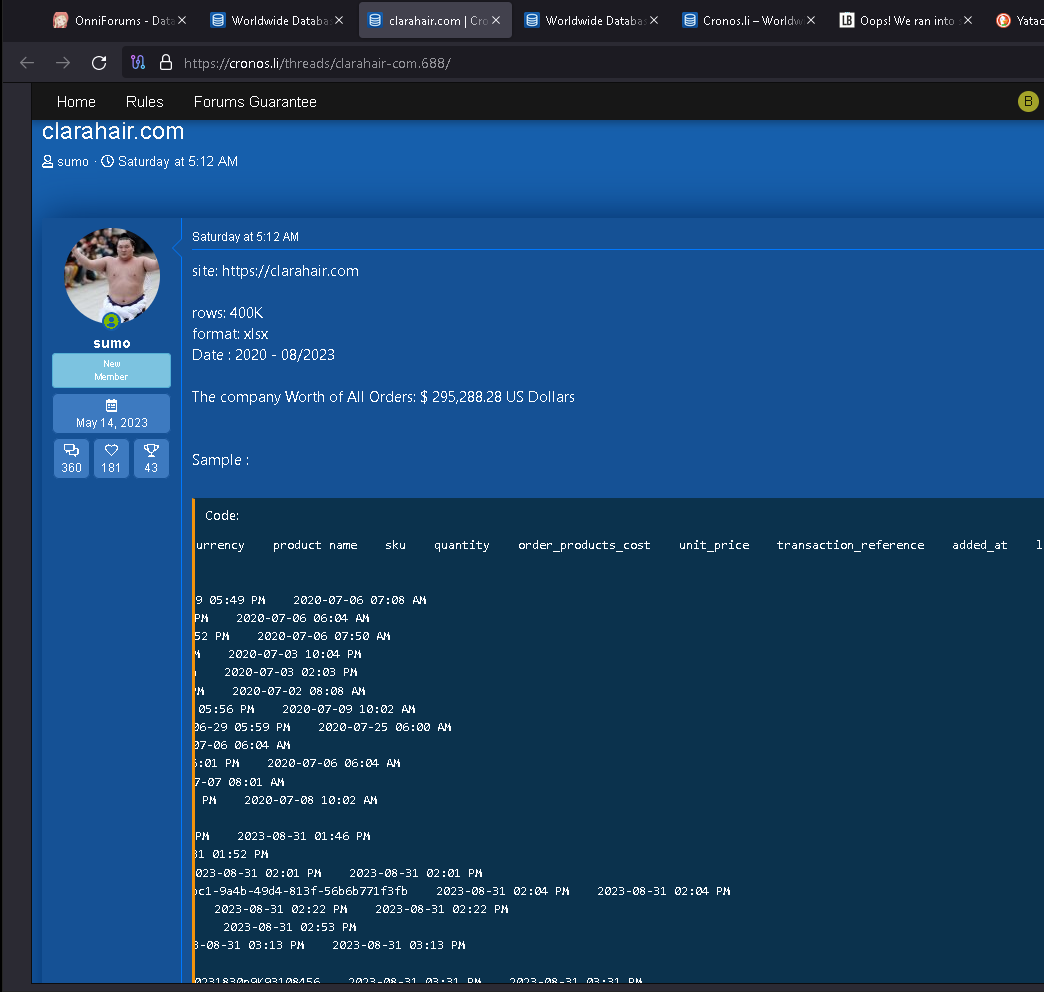 Company Data Breach History
At present, there is no known history of security breaches reported for ClaraHair.com. This breach represents an unfortunate and unprecedented incident. However, ClaraHair.com is actively working alongside cybersecurity experts to investigate the breach thoroughly, identify vulnerabilities, and implement enhanced security measures.
As a leading provider of advanced security solutions, InsecureWeb aims to support companies like ClaraHair.com in rapidly detecting and addressing security breaches. Our mission is to provide timely and proactive protection to mitigate potential threats and secure sensitive data.
Recommendations for Personal Data Protection
How Users Can Protect Their Information
To protect their personal information and accounts from being compromised, users should take the following steps:
– Change their passwords frequently, with a combination of letters, numbers, and symbols.
– Enable two-factor authentication whenever possible.
– Use unique passwords for each account, to prevent hackers from accessing multiple accounts with the same password.
– Be cautious of suspicious emails or messages, as they may contain phishing links that can compromise their accounts.
– Regularly monitor their accounts for any suspicious activity.
What is InsecureWeb?
InsecureWeb is a Dark Web monitoring service that keeps track of recent data breaches and tracks their impact by monitoring the darkest places of the internet. InsecureWeb notifies users and enterprises when their data has been found online and helps them mitigate the impact.