Post Date:
September 2, 2023
---
Daniel Felipe
Data Breach Summary
In a jarring turn of events, bitsphere.in, a prominent information technology company based in India, has become the victim of a major security breach. Our vigilant team at InsecureWeb detected this breach on August 14, 2023, uncovering a compromised database containing highly sensitive information. The breach is attributed to the hacker "sumo" and took place within the notorious Dark Web forum known as "cronos.li."
Where and How?
During this breach, unauthorized access was gained to a database storing crucial information from bitsphere.in. The compromised data includes unique identifiers (IDs), division details, district information, individual names, mobile numbers, and blocks. This breach, orchestrated by hacker "sumo" and publicized on the Dark Web, poses significant risks to the affected individuals and potentially compromises the larger technological ecosystem.
The occurrence of such breaches serves as a stark reminder of the need for organizations like bitsphere.in to strengthen their cybersecurity defenses and establish robust protective measures. It emphasizes the importance of adopting advanced security protocols to safeguard critical information against unauthorized access and mitigate potential harm.
A Screenshot of the data can be found below: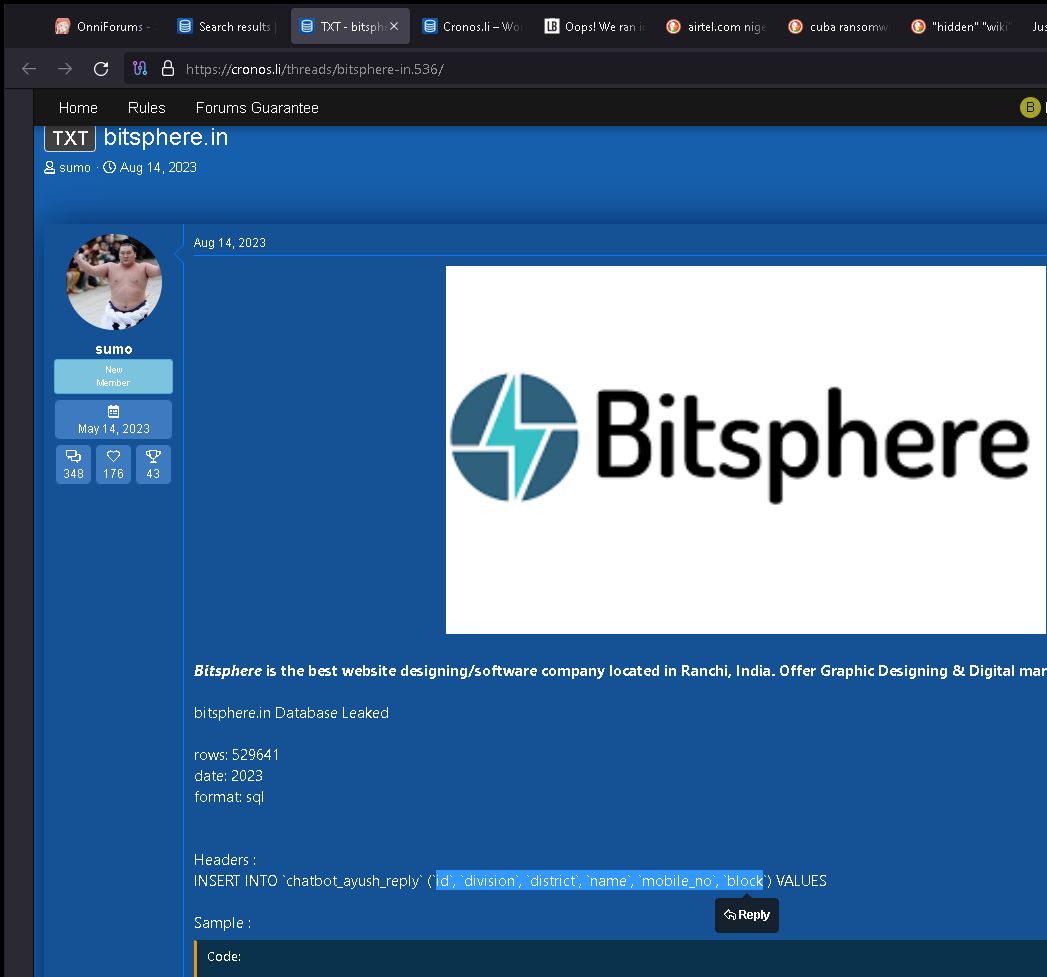 Company Data Breach History
To date, bitsphere.in has no known history of previous security breaches. This breach, however, marks a critical moment, prompting a renewed focus on securing sensitive data and reinforcing the company's commitment to protecting customer information.
Affected individuals are strongly advised to take immediate action, such as reviewing their personal information, monitoring their accounts for any suspicious activity, and implementing additional security measures such as multi-factor authentication.
Recommendations for Personal Data Protection
How Users Can Protect Their Information
To protect their personal information and accounts from being compromised, users should take the following steps:
– Change their passwords frequently, with a combination of letters, numbers, and symbols.
– Enable two-factor authentication whenever possible.
– Use unique passwords for each account, to prevent hackers from accessing multiple accounts with the same password.
– Be cautious of suspicious emails or messages, as they may contain phishing links that can compromise their accounts.
– Regularly monitor their accounts for any suspicious activity.
What is InsecureWeb?
InsecureWeb is a Dark Web monitoring service that keeps track of recent data breaches and tracks their impact by monitoring the darkest places of the internet. InsecureWeb notifies users and enterprises when their data has been found online and helps them mitigate the impact.