Post Date:
October 3, 2023
---
Daniel Felipe
Data Breach Summary
A recent security breach targeting Arteza.com, an online store specializing in art and craft supplies, has sent shockwaves through the online retail community. While the breach was detected by InsecureWeb, it is imperative to clarify that the incident may have occurred prior to our discovery. The breach came to our attention on September 21, 2023, when we identified a database containing 47.6MB of sensitive customer information on the dark web. This cache of data was published by a user known as #@weleakdatabaseofficial via the Telegram channel #@weleakdatabaseofficial.
Where and How?
The breach's magnitude becomes apparent when considering the nature of the compromised data, which includes customers' First Name, Last Name, Email, State, Date of Birth, Points Balance, Referral URL, Completed Referrals Count, and VIP Tier Name. The breach was found within chat apps, specifically on Telegram, which serves as a medium for sharing illicitly obtained data. Arteza.com, a prominent online supplier of art and craft materials, caters to a wide-ranging customer base, making this breach particularly alarming.
The breach underscores the vulnerability of personal information, and the potential consequences are significant. With the exposed data, cybercriminals could orchestrate various malicious activities, from identity theft to phishing scams and beyond. Customers of Arteza.com must remain vigilant and take immediate precautions to safeguard their personal information.
A Screenshot of the data can be found below: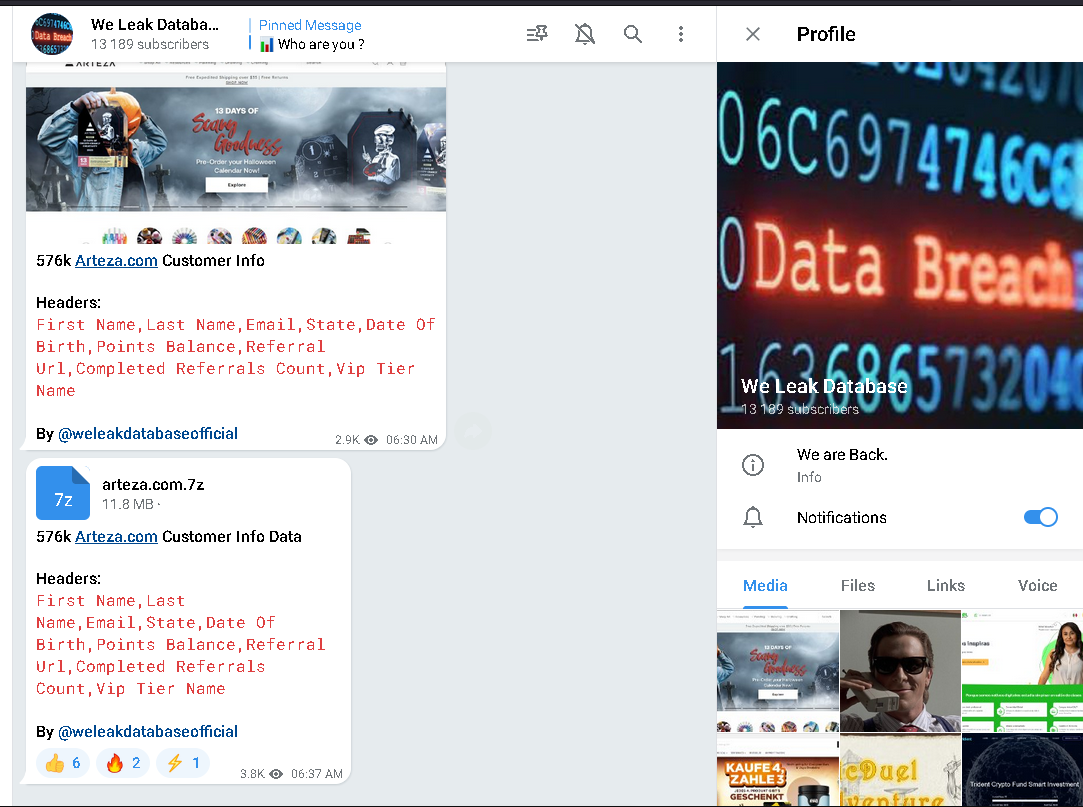 Company Data Breach History
Arteza.com has had no known history of security breaches prior to this incident. While this is a commendable track record, the breach serves as a stark reminder of the evolving and persistent threats in the digital realm. It is crucial for Arteza.com to not only address the immediate aftermath of this breach but also enhance its cybersecurity measures to prevent future incidents and ensure the safety of its valued customers' data.
Recommendations for Personal Data Protection
How Users Can Protect Their Information
To protect their personal information and accounts from being compromised, users should take the following steps:
– Change their passwords frequently, with a combination of letters, numbers, and symbols.
– Enable two-factor authentication whenever possible.
– Use unique passwords for each account, to prevent hackers from accessing multiple accounts with the same password.
– Be cautious of suspicious emails or messages, as they may contain phishing links that can compromise their accounts.
– Regularly monitor their accounts for any suspicious activity.
What is InsecureWeb?
InsecureWeb is a Dark Web monitoring service that keeps track of recent data breaches and tracks their impact by monitoring the darkest places of the internet.
Our commitment lies in providing top-notch cybersecurity services to our clients. Through continuous monitoring of the dark web and advanced threat detection methodologies, we strive to identify potential breaches promptly, enabling swift response and mitigation efforts. With our state-of-the-art tools and expertise, we prioritize the confidentiality, integrity, and availability of our clients' data.