---
Daniel Felipe
Data Breach Summary
Data breaches are a constant threat to businesses and organizations worldwide. On May 12, 2023, InsecureWeb, a company that specializes in scanning the dark web for security breaches, detected a significant data breach on dhoomkharidi.com, a website that provides products and services related to Gujarati culture and literature.
Where and How?
The data breach, which was posted by wht on April 12, 2023, on the website HydraMarket, involved a SQL attack that compromised approximately 105 MB of sensitive information. The compromised information includes customer data, such as names, email addresses, and contact information, which could be used for phishing attacks and other fraudulent activities.
InsecureWeb team of experts was able to track down the source of the breach, which was found on a dark web forum located on hydramarket.co. With their expertise in scanning the dark web, they were able to quickly notify dhoomkharidi.com of the data breach and provide guidance on how to mitigate the damage caused by the breach.
A Screenshot of the data can be found below: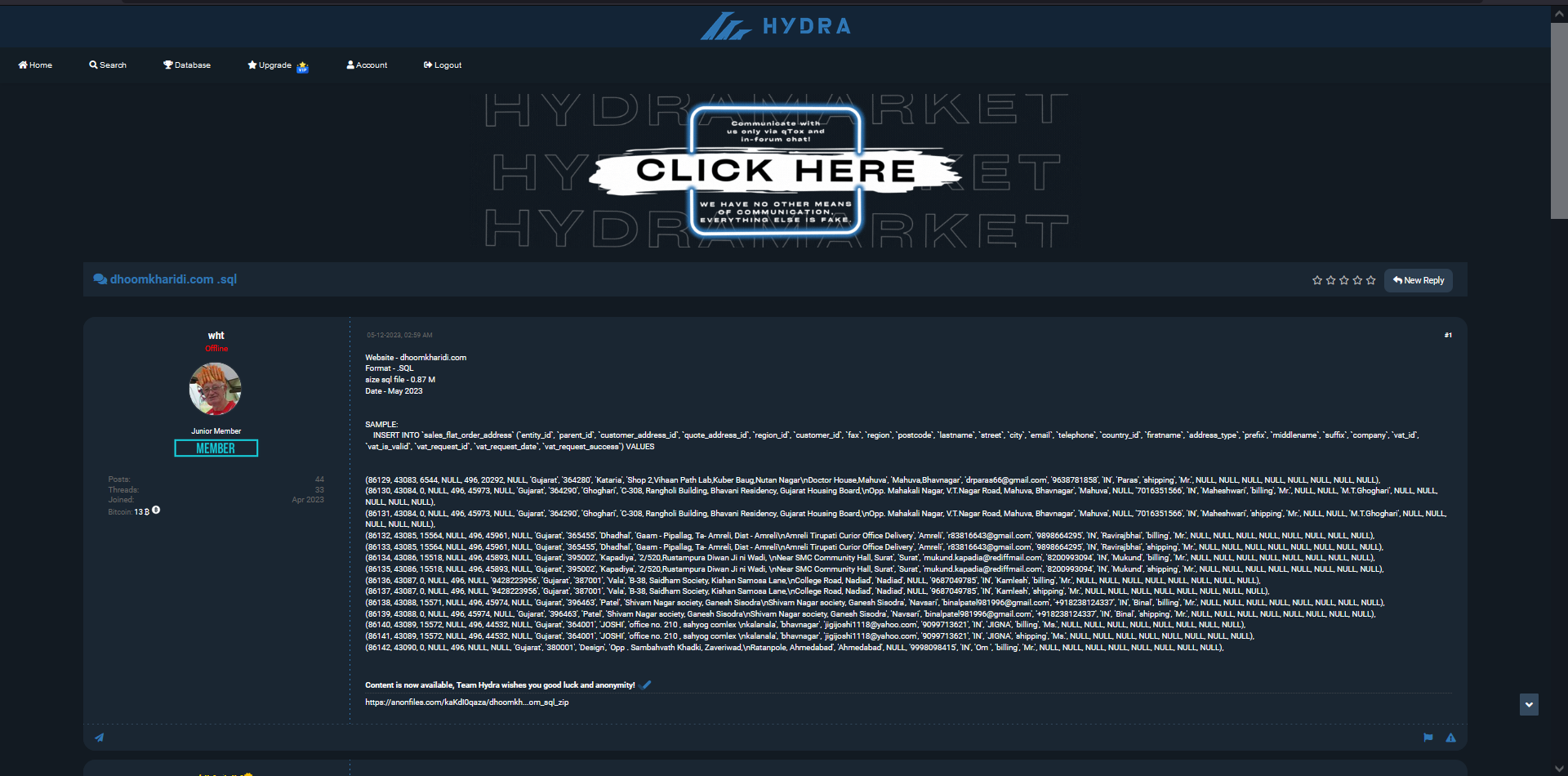 Company Data Breach History
Dhoomkharidi.com has not suffered any significant data breaches in the past.
InsecureWeb timely detection of the security breach on dhoomkharidi.com highlights the importance of regular security audits and monitoring of dark web forums. Cybercriminals are constantly evolving their tactics, and businesses need to be proactive in protecting their sensitive data.InsecureWeb expertise in scanning the dark web for security breaches has proven to be an effective tool in protecting their clients' data.
Dhoomkharidi.com has taken immediate action to mitigate the damage caused by the security breach. The company has alerted all affected users and has implemented additional security measures to prevent future attacks. Dhoomkharidi.com is also working with law enforcement to identify the perpetrators and prevent further damage.
The security breach on dhoomkharidi.com serves as a reminder that businesses of all sizes and industries are vulnerable to data breaches. InsecureWeb quick detection of the breach has prevented significant damage to the website's reputation and financial stability. It is crucial for businesses to prioritize cybersecurity and work with experts like InsecureWeb to ensure the safety of their sensitive data. As cybercriminals become more sophisticated in their attacks, businesses must stay one step ahead to protect themselves and their customers. Regular security audits and monitoring of dark web forums are essential tools in preventing data breaches and mitigating the damage caused by them.
Recommendations for Personal Data Protection
How Users Can Protect Their Information
To protect their personal information and accounts from being compromised, users should take the following steps:
– Change their passwords frequently, with a combination of letters, numbers, and symbols.
– Enable two-factor authentication whenever possible.
– Use unique passwords for each account, to prevent hackers from accessing multiple accounts with the same password.
– Be cautious of suspicious emails or messages, as they may contain phishing links that can compromise their accounts.
– Regularly monitor their accounts for any suspicious activity.
What is InsecureWeb?
InsecureWeb is a Dark Web monitoring service that keeps track of recent data breaches and tracks their impact by monitoring the darkest places of the internet. InsecureWeb notifies users and enterprises when their data has been found online and helps them mitigate the impact.