Post Date:
August 30, 2023
---
Daniel Felipe
Data Breach Summary
In a distressing turn of events, Signify CRM, a comprehensive Customer Relationship Management (CRM) solution designed to empower businesses and organizations, has become the victim of a significant security breach. On June 17, 2023, our vigilant team at InsecureWeb detected this breach within the domain of SignifyCRM.com. Please note that the breach detection date does not imply the breach occurred on that specific date. The breach involved unauthorized access and exfiltration of data from SignifyCRM.com. The hacker, known as "zxcv16," openly posted the stolen data on the dark web forum "nulled.to."
This breach has resulted in the unauthorized exposure of a substantial amount of data, totaling approximately 212MB. Unfortunately, the specific compromised information has not been publicly disclosed at this time. This breach underscores the urgency to address potential ramifications, restore trust, and implement measures to safeguard sensitive data.
Where and How?
The breach infiltrated the fortified digital domain of Signify CRM, casting a shadow over its commitment to empowering businesses through efficient customer relationship management. While the exact details of the breach, including how it occurred and the specific information stolen, have not been disclosed, it is imperative to thoroughly investigate the incident's extent and potential implications for data privacy and CRM functionality.
Identifying vulnerabilities within the CRM system and the point of intrusion is critical for implementing necessary security measures and assuring future data protection. By prioritizing stringent security practices, conducting comprehensive audits, and leveraging encryption protocols, businesses can minimize the risk of such breaches and uphold the trust of their customers.
A Screenshot of the data can be found below: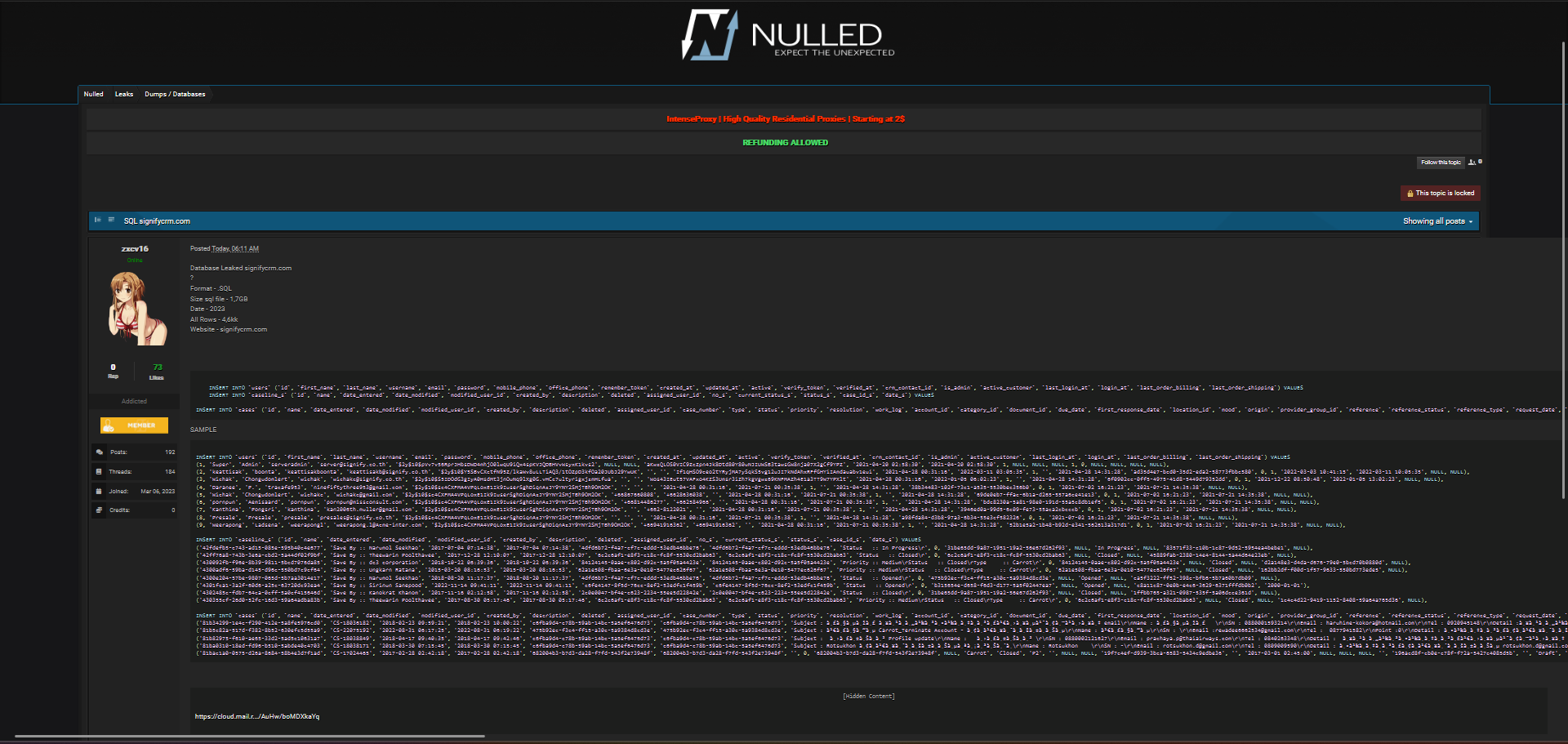 Company Data Breach History
At present, there is no known history of security breaches specific to Signify CRM. However, this breach underscores the ongoing need for organizations to remain vigilant and proactive in safeguarding customer data. Signify CRM can strengthen its position as a trusted CRM solution through regular security assessments, stringent data encryption, and a robust incident response framework.
By fostering a culture of data security and prioritizing customer privacy, Signify CRM can enhance trust among its user base. Proactive collaboration with cybersecurity experts, sharing industry best practices, and continuous improvement of security infrastructure are vital for establishing a resilient CRM ecosystem, wherein businesses can maintain strong relationships with their customers while protecting sensitive data.
Recommendations for Personal Data Protection
How Users Can Protect Their Information
To protect their personal information and accounts from being compromised, users should take the following steps:
– Change their passwords frequently, with a combination of letters, numbers, and symbols.
– Enable two-factor authentication whenever possible.
– Use unique passwords for each account, to prevent hackers from accessing multiple accounts with the same password.
– Be cautious of suspicious emails or messages, as they may contain phishing links that can compromise their accounts.
– Regularly monitor their accounts for any suspicious activity.
What is InsecureWeb?
InsecureWeb is a Dark Web monitoring service that keeps track of recent data breaches and tracks their impact by monitoring the darkest places of the internet. InsecureWeb notifies users and enterprises when their data has been found online and helps them mitigate the impact.